Emergency preparedness classes on campus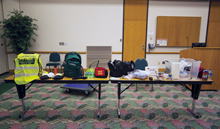 Courtesy Chris James
A three-day survival kit is recommended for your home and may include a radio, clean water, a blanket, and non-perishable foods.
In a state where tornadoes are routine and earthquakes are an occasional event, people need to know how to prepare for an emergency.
"Unfortunately, many people don't," said Lisa Teel, OCCC's director of emergency planning and risk management.
The Community College Citizen Preparedness Program is a national program aimed at training citizens through 125 community colleges on specific protective actions that, following a disaster, help save lives and reduce injuries before first response teams arrive.
Emergency situations to prepare for include terrorist threats or attacks, technological problems like power outages, and natural disasters like floods, tornados, ice storms, and earthquakes.
In light of recent earthquakes, Penny Hampton, director of professional development, said people are advised by the American Red Cross to drop, cover, and hold under a sturdy table or structure.
Teel recommends having a three-day survival kit for your home. The kit should contain a radio, clean water, non-perishable foods, a blanket, a flashlight, and toilet paper along with anything else you think you may need while waiting out the disaster in your home. Teel also said people should keep a utility shut-off tool in the survival kit, because the gas or water lines may need to be shut off in some situations.
She also said to have a "grab and go" kit in case your home has to be evacuated. This kit should include clothes, medications, toiletries, snacks, a cell phone charger, a flash drive containing pictures, and a written contact list with phone numbers and addresses.
Hampton said people with pets should have pet records in their "grab and go" kit, as that may be needed for admittance into an emergency shelter.
Teel said safety is no accident.
"Make a plan, get a kit, and be prepared."
Future Community College Citizen Preparedness Program classes will be held Dec. 13 at 1 p.m. in room CU3.
To contact Chris James, email onlineeditor@occc.edu.