Column: 8 fun, frugal ways to celebrate Father's Day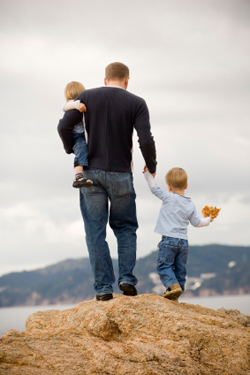 Honoring dad this Father's Day, June 20, doesn't mean breaking the bank. Here are eight fun, frugal ways to celebrate pop this year:
Put together a gift basket. Fill a simple wooden basket with goodies for dad to enjoy, like his favorite junk food, a miniature tool kit, gift cards to his favorite stores and perhaps some homemade treats. You can easily tailor your basket to fit his personal tastes:
If he's addicted to automobiles, fill his basket with items such as an air freshener, a tire guage, an ice scraper or even a subscription a car-related magazine such as Motor Trend or Car and Driver.
For a brilliant barbecuer, consider stuffing his basket with his favorite sauces and marinades, a recipe book, an apron and perhaps some grill cleaner.
If your dad's a nerd and proud of it, items such as decorated USB drives, witty T-shirts or a gift certificate to online stores like ThinkGeek would make a great statement.
The possibilities are endless. Use your imagination to create a basket as unique as the man you are making it for.
Pimp his ride. Every man can appreciate the beauty of a freshly detailed car. Go beyond soap and water and give his ride the deluxe treatment: a thorough fender-to-bumper wash, waxed tires, clean dashboard and a vacuumed interior. If you're feeling extra generous, top off his gas tank too.
Golf ball glamour. Does your dad love to golf? If so, you're probably sick of buying the same trite golf balls every year. This Father's Day, consider something a little more creative: decorate the balls yourself. Whether you paint them up in his favorite team colors or write sweet messages on each ball, he'll be thinking of you next time he tees off.
Make it a movie night. Surprise dad with a collection of his favorite movies on DVD and spend the evening watching them together. Supply the concessions yourself: bring cans of his favorite soda, candy bars and don't forget the popcorn. For a dad whose tastes are a little on the wild side, consider visiting a local store like Popcorn Fharmacy for an array of popcorn flavors — such as cinnamon, peanut butter and maple — that go above and beyond the usual salt and butter.
Give him a call. If you can't be with dad in person this Father's Day, ring him up for a long, heartfelt conversation — not just a quick hello-goodbye.
Cheers! Remember those colorful coffee mugs you gave dad as a kid? Perhaps it's time to revisit the idea. Buy him a mug and fill it with a ready-to-go mix of his favorite drink, like coffee and hot cocoa.
Let somebody else sing his praises. Burn dad a mix CD of his favorite songs. If you're unsure of his musical inclinations — or if he's a music junkie with an iPod and custom playlists aplenty — consider a mix of songs about dear old dad. Here are some ideas to get you started:
"Butterfly Kisses" by Bob Carlisle
"Father and Son" by Cat Stevens
"Arms Wide Open" by Creed
"My Father's Eyes" by Eric Clapton
"A Song For Dad" by Keith Urban
"What A Wonderful World" by Louie Armstrong
"Just the Two of Us" by Will Smith
"My Hero Is You" by Hayden Panettiere
Fit for a king. If you happen to live with dad, wake up extra early Sunday and fix him a homemade breakfast extravaganza. Cook up a smorgasbord of eggs, bacon, sausage, toast, biscuits and gravy — whatever his heart desires. If you don't live with your father, take him out to his favorite restaurant and treat him to breakfast, lunch, dinner or even a simple dessert if you're strapped for cash.
However, if you do decide to go the homemade route but are unsure of how to begin, here are a few fun recipes to start with:
Whether you shower him with extravagant presents or treat him to a night of quiet conversation, the most important thing to remember on Father's Day is he already has the greatest gift he could ask for: you. The things you give him will show your appreciation, but it's the time you spend with him that he will truly cherish.
Dads everywhere, have a happy Father's Day!