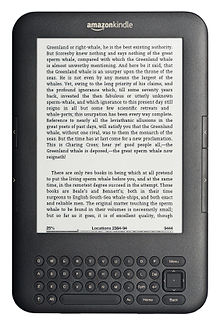 Students looking for a more interactive way to read books may want to check out the OCCC library's selection of e-books. With its start last summer, the service provides a wide range of fiction and non-fiction, including many of today's popular books.
Electronic Services and Reference Librarian Amanda Lemon said two e-book services are offered:
• Overdrive e-books, which, she said, are the ones most students will be interested in, and;
• Ebsco e-books, which Lemon said, are more supplemental type materials for classes.
To access these books, Lemon said, go to the school's library page at www.occc.edu/library and select e-books.
"For the Overdrive one, you just click in there and do a title search on the left side," she said.
"If you click advanced, it will let you search by author or publisher house. If you have a Kindle, you can click Kindle book and hit search, and it will show you all the available Kindle e-books."
Lemon said before users can check out books on devices such as the iPhone, iPad, and Android, they much first download an Overdrive app.
Although it may seem confusing at first, Lemon said, help is provided on the homepage.
"If you click where it says library help guide, there's an Overdrive and audio e-books guide and it will give you the step by step directions as well as how to download it to your phone," she said.
Once downloaded, users can check out up to three books by signing in with the same information used with MineOnline and student email, and the book will be added to their device. Users can check out books for either seven or 14 days. When time is up, the file will automatically disappear.
Lemon said e-books are especially good for those who are always on the go.
"If you are going to get your tires rotated or oil changed, you can read it while you wait," Lemon said. "It's also convenient when you go on trips if you are someone who usually takes a lot of books with you."
Although the service has been offered for more than a year now, Lemon said it is mainly faculty who currently use the service.
"We try really hard to push it that we have [e-books]," Lemon said. "I think if students knew more about it, they would be more excited."
Business major Brian Reynolds said he has heard about the e-books before but wasn't sure what they were.
"I remember someone talking about them in my English class once but wasn't sure how they worked," Reynolds said.
"I think it would be a great way to kill some time before class during my long breaks."
To contact Erin Peden, email staffwriter1@occc.edu.