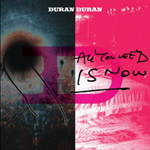 After the letdown of their last album "Red Carpet Massacre" in 2007, Duran Duran fans have eagerly and impatiently waited for the time the band would regain their signature sound which made them the ultimate party band in the '80s.
With their newest album "All You Need Is Now," the goal was to return to the group's roots and provide something that would satisfy die-hard Duranies while still managing a contemporary sound.
The album, which was produced by Mark Ronson and features guest vocalists such as Ana Matronic of Scissor Sisters and musical artist Kelis, does not disappoint.
While the album is not exactly the imaginary follow-up to "Rio" as Ronson anticipated, listeners are provided with nine tracks which feature the familiar vocals of lead singer Simon Le Bon and contain catchy tunes that could easily be heard at a dance club.
Slower tracks such as "The Man Who Stole a Leopard" and "Before the Rain" take a glimpse into the past with an uncanny resemblance to their 1982 song "The Chauffeur."
While the album is unlikely to bring in many new fans, upbeat tunes such as "Safe" please by highlighting the skillful counter melody of bassist John Taylor and the outstanding rhythms of drummer Roger Taylor, while "Girl Panic" offers clever chords from the synthesizer played by Nick Rhodes.
The lyrics from Le Bon are as poetic as ever, ranging from a romantic ballad about a lover returning after a long time away in "Leave a Light On" to the mysterious message in "Being Followed."
Although the album is currently available for download exclusively through iTunes, three bonus tracks will be added and released on an in-store album sometime in February.
Despite past challenges, the fab five (now four) are back in the game and hungrier than ever to prove that all you need is "All You Need Is Now."
Rating: A-