Drunk driving costly to all involved
F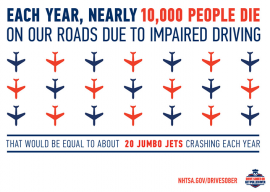 or $10,000 you can ride with Uber from Oklahoma City all the way to Alaska — and back.
For drivers who are arrested for Driving Under the Influence of alcohol, the cost of the ticket and all of its added expenses could total close to $10,000.
The cost of a DUI
About 1.2 million people are arrested annually for DUI, driving under the influence of alcohol, also known as drunk driving.
The price of driving under the influence can range anywhere from $5,000 to $12,000, according to the website sponsored by Mothers Against Drunk Driving. But the consequences of driving under the influence can sometimes be much more.
Getting a DUI cannot only be measured by this large amount of money, but also by the emotional toll and hours of community service and court appearances, said Oklahoma City Police Public Information Officer Gary Knight.
Knight said he has made hundreds of DUI arrests and freely gives his advice to those who decide to drink and drive: Don't do it.
"It's truly frightening to see how fast your life can change," Knight said. "By choosing to drive drunk, you're putting yourself at a high risk to become a convicted felon.
"If you become a convicted felon, you cannot become a teacher, lawyer, doctor, police officer, and many more.
"Almost all good jobs are then out of the question."
For a DUI to be considered a felony in Oklahoma, it usually has to be your second offense in 10 years, Knight said.
But even for a misdemeanor DUI, the total cost can run $10,000 or more, Knight said.
Costs related to a first-offence non-injury or non-property-damaging DUI can include court costs which average anywhere from $200 to $1,500.
Substance abuse classes will cost up to $500.
Legal fees generally start at $2,000, but much of the time run near $5,000, Knight said.
An ignition interlock system (breathalyzer) for your vehicle costs at least $100 to install, and a rental fee of around $50 per month, according to attorney Rich Stem, writer for Drivinglaws.org.
Increased auto insurance will run $1,000 to $1,500 annually, according to Stem's website.
And finally, to get your license reinstated, it costs anywhere from $250 to $500.
First-hand knowledge
OCCC student, Jacob, who asked that his real name not be used, said he learned all this the hard way.
He said, in the summer of 2014, he just wanted to go to a party down the street from his apartment in Norman. That's how Jacob got his education in the cost of a DUI.
"The party was at an apartment complex literally a five-minute walk from mine," he said. "My buddies and I had been drinking a few beers at my place before the party."
Jacob agreed to drive them over.
"On the last turn into the complex where the party was, I saw the flashing lights," he said. "I failed the sobriety test and they took me to jail. My friends just walked to the party."
Jacob's friends then spent the rest of the night trying to find a way to bail him out of jail. He said, luckily, he comes from a family who had the means to pay the $2,000 bail.
Because Jacob and his friends decided to drive instead of walk, he had to spend thousands of dollars, perform community service and attend classes.
He said he learned some things attending DUI classes, which cost $250 and lasted four weeks.
"They showed many eye-opening statistics and it taught me to be more cautious," he said.
"Everyone should also know that the class is at 9 a.m. on Saturday, so say goodbye to going out on Friday nights."
While DUIs have consequences for the driver who gets arrested, accident victims of drunk drivers should not be overlooked.
An expensive lesson
What can $20 worth of beer and one bad decision cost you?
OCCC student Thomas had to learn this answer the hard way. He agreed to tell of his experience, but also asked that his real name not be used.
His story began one Saturday night in 2011 when he was 18. He was at a party with a few friends, playing drinking games and having a good time.
All of a sudden, someone screamed "cops," and everyone began to scatter, he said.
Thomas told his three friends to wait out back as he went to get the car.
Once he picked them up and began to drive away, he said, he barely noticed someone run out of some bushes and try to stop the car.
With his decision-making impaired, Thomas said, he panicked and slammed on the gas.
As he drove over the person's foot, Thomas looked into the man's eyes and realized it was an Oklahoma City police officer.
As Thomas kept driving, he ended up going in a complete circle around the block, meeting the officer at gunpoint back at the location of the party. The officer threatened to shoot if Thomas didn't stop the car.
He and two of his friends were taken to Oklahoma County jail.
Thomas was charged with several felonies: hit-and-run, assault on an officer, fleeing the scene of a crime, and DUI.
His bail was set at $15,000 and he remained in a cell for almost 24 hours.
He said, with the help of a very expensive attorney, he was able to get the felony charges dropped and was only charged with a misdemeanor DUI.
When asked about the cost of the entire incident, he replied: "Too much money for someone my age to even comprehend.
"I had to sell my new Jeep Unlimited. For Christmas my mom just gave me the attorney receipts and said 'be happy you're not in prison.'"
His fees alone — those related to the misdemeanor DUI — cost upwards of $4,000, he said. That didn't include attorney costs.
Although his case is somewhat unusual, Thomas wants to warn other students about the toll it takes.
It's been four years now, he said, and he is just beginning to recover — both financially and emotionally.
"Don't think this can never happen to you," Thomas said.
"When you are intoxicated, your decision-making is off. What I did could have cost me my entire life. It all could have been avoided by not getting behind the wheel of a car (after drinking alcohol)."
Thomas said he is fortunate that his family could afford to cover the costs without making serious sacrifices. For someone from a less affluent family, he said, the situation could have ended much differently.
Since that time, Thomas has had to make some simple but crucial changes.
For quite some time after, he said, he didn't even drink alcohol because he was on probation for a year after his DUI.
Since he was under 21, one drink and he could have violated his probation and been required to serve prison time.
After not drinking alcohol for almost a year, he explains how he now carefully plans out his social life.
If he goes to party, he starts early in the day planning his rides. He says he also uses Uber and Lyft quite often.
The Numbers
Although the number of DUI fatalities have dropped in half since 1980, drunk driving still accounts for almost one-third of traffic deaths each year, according to a study done by Mothers Against Drunk Driving.
That is 28 deaths each day, the MADD website shows.
Drunk driving in Oklahoma is defined as 0.08 blood alcohol content, which can be caused by just three 12-ounce beers in one hour.
Impaired driving is classified as between 0.05 and 0.079 blood alcohol content.
Impaired driving (DWI) still results in a ticket up to $500, according the Oklahoma Department of Motor Vehicles website.
If drivers are above this legal limit and cause one of the 28 deaths each day, they will then face second-degree murder charges, Knight said.
Before getting behind the wheel while intoxicated, Knight would like to offer words of caution: "Think about the consequences and your future. It could all change in an instant."