Drug bust, wreck details, disturbance reported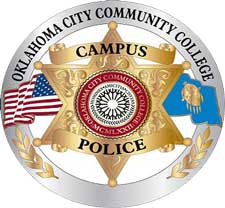 Marijuana and drug paraphernalia were discovered by campus police who were investigating reports of a dog in distress in parking lot B Monday, March 30.
According to the report, Officer Gordon Nelson was dispatched "in regard to a dog, possibly in distress, inside a blue Ford Taurus," that day.
Nelson reported all four windows of the car were partially open and the dog did not appear to be in distress. It was ascertained that the vehicle did not belong to an OCCC student.
While trying to identify the car's owner, Nelson reportedly observed some items on the front passenger seat, including a ziplock bag containing what appeared to be marijuana.
When the driver of the vehicle returned, she allowed Nelson to examine the contents of the bag, which tested positive for THC.
Further examination of the vehicle's contents turned up a metal pipe containing a residue that also tested positive for THC.
Nelson filed "charges out of custody" with the district attorney's office for possession of a controlled dangerous substance within 1,000 feet of a college and possession of drug paraphernalia.
The driver was allowed to leave campus after it was determined she had no outstanding warrants.
Chief James Fitzpatrick said it is now up to the DA to determine the final charge, if any. He explained why it was handled this way.
"For a small amount of marijuana like this, the city police can write you a ticket, (but) we don't have that option," Fitzpatrick said.
"We can take you to jail right then and be away from campus maybe for four hours — and there's the dog in the car and there was some other things — or we can do it this way and file out of custody and you don't go to jail right then.
"This person didn't skate by any means."
Details have now emerged about the student who drove her car into a retaining wall near the VPAC Theater entrance on March 31.
The Pioneer Online reported the mishap that same day, but an official report was not yet ready.
That report, since compiled by Officer Zachary Andrews, shows that an unnamed OCCC student was injured around 9:15 a.m. on Tuesday, March 31, when her Chevy Malibu collided with a brick wall near the VPAC.
Andrews states the vehicle was significantly damaged and the wall was "heavily impacted."
A second driver who witnessed the accident said the Malibu was driving on Keels Boulevard, closely following a slow-moving Buick.
The witness said it looked as if the Malibu's driver attempted to pass the Buick by speeding through parking lot C. Upon exiting the parking lot, the Malibu's driver reportedly lost control of her car, then sideswiped the witness's vehicle.
The Malibu then became "completely airborne [at the curb] with four of the vehicle's tires losing contact with the ground, according to the report.
The car is reported to have landed more than 16 feet beyond the curb, then traveled another almost 66 feet before striking the retaining wall. The  driver's side airbag did deploy.
The student was conscious when police arrived but needed medical attention, the report shows. She was transported by EMSA to Baptist Integris.
She was issued citations for Failure to Comply with Compulsory Insurance Law, Failure to Keep Right on Road and Excessive Speed.
The driver of the sideswiped vehicle was  not injured but did sustain some cosmetic damage to her car.
A student was arrested on campus later that same day for disturbing the peace after a confrontation with Police Chief James Fitzpatrick and Sgt. Kevin Hammond on Tuesday, March 31.
A police report filed by Officer Patrick Martino shows he was dispatched to Student Support Services around 5:40 p.m. for a disturbance.
Martino was told an unnamed student was receiving counseling when student Bryce David Chandler arrived at the Student Support Services office, demanding to know the other student's whereabouts.
Office staff told Chandler they could not confirm the student's location.
Chandler then reportedly became "angry and disruptive with the staff," and "gestured with his middle finger" before leaving.
While Martino was still at Student Support Services, he said he heard yelling from outside the office. He found Chandler in a confrontation with Fitzpatrick and Hammond.
Chandler was arrested at around 6:20 p.m. for disturbing the peace and was transported to the Oklahoma County Detention Center.
The report shows Chandler was contacted at his residence by Oklahoma City police the day before on Monday, March 30, "in regards to domestic violence and/or suicidal suspect."
Chandler told the Pioneer he could not comment while Student Services considers his case.
Additional information is available in a supplemental report that was requested but not provided.
Some information was redacted from the reports under the direction of Marketing and Public Relations Director Cordell Jordan who said names are redacted "according to OCCCPD Standard Operating Procedures involving information released and information withheld."
To obtain a copy of the procedure, email cjordan@occc.edu.
To contact campus police, call 405-682-1611, ext. 7747.
For an emergency, use one of the call boxes located inside and outside on campus or call 405-682-7872.
To contact Jorge Krzyzaniak, email seniorwriter@occc.edu