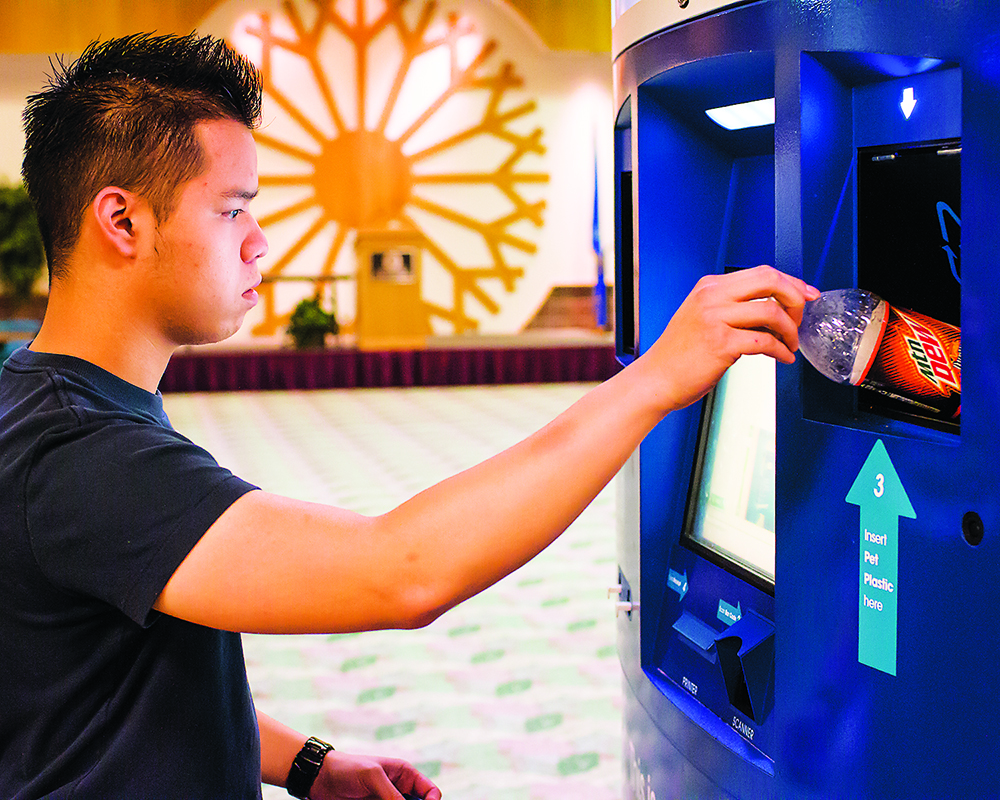 In addition to doing a great thing for the planet, environmentally aware folks can get an instant reward for recycling on campus by using the Dream Machines located around campus.
Added in February 2011 as part of the school's Green Taskforce recycling initiatives, Dream Machines recycle both aluminum cans and plastic bottles using technology-enabled kiosks.
Sociology major Rachel Brand said she was not aware of the kiosks around campus but is interested in trying them.
"I recycle all the time and have seen normal recycling bins around campus but had no idea we had machines such as this," Brand said.
"I think it's a great idea because not only does it make recycling a little more fun but you are getting rewarded and helping the environment at the same time. I will definitely be signing up."
Emergency Planning and Risk Management Director Lisa Teel said the machines are the first interactive recycling system that brings together online and on-street technologies.
"Dream Machine kiosks are computerized receptacles that include a personal reward system allowing consumers to collect and redeem points for each bottle or can they recycle in the kiosk," Teel said.
Points can then be redeemed at www.greenopolis.com for a range of coupons for shopping and dining venues such as Best Buy, Michael's, Taco Bell and even various local museums, Teel said.
She said points also can be donated to help organizations such as the Humane Society. Users must have an account with www.greenopolis.com and at least 100 points before redeeming coupons.
Signing up is easy, Teel said.
To begin recycling and redeeming points, students must simply go to a Dream Machine receptacle on campus and create a login.
Users are prompted by an electronic touch screen and have the option to either sign in or sign up. To sign up, users must take a card from the machine, scan it and input their personal information. Then, users can begin scanning recyclables, depositing them and earning points.
To keep up with points they have earned, users can print a receipt at the end of their transaction or log in with their email and password at the greenopolis website.
Besides earning points and coupons, Teel said, the Machines also have additional benefits other than just supporting the environment.
"The Dream Machine recycling initiative also provides funding to the Entrepreneurship Bootcamp for Veterans with Disabilities, a national program offering free, experiential training in entrepreneurship and small business management to post-9/11 veterans with disabilities," she said.
"The more people recycle bottles and cans in a Dream Machine kiosk, the more support PepsiCo can provide EBV for career training, education and job creation."
Plastic bottles will generally reward users with about five points each, making it easy to come up with 100 points in no time.
To sign up, visit one of the Dream Machine kiosks located in the College Union by Carson's or the Main Building by the OCCC Coffee Shop.
To contact Erin Peden, email staffwriter1@occc.edu.