'Draw Something' for everyone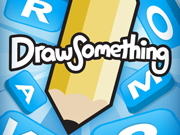 In an age where cell phone users can raise virtual chicken farms and hurl rotund birds at snorting green pigs with a touch of their fingertips, there's nary a shortage of games available on mobile markets.
But after seeing about a hundred reincarnations of a ninja slicing a piece of fruit, sometimes the pickings seem a little slim.
That's why it's so refreshing to see something as innovative as "Draw Something," the newest app burning up the charts.
Available in a free or 99-cent version on both the Apple and Android stores, "Draw Something" is a bit like a mobile, modernized game of "Pictionary."
You create an account using either your email address or Facebook log-in, then create a game with your choice of an email buddy, Facebook friend, or a random user.
After creating the game, choose from three randomized words, each with varying degrees of difficulty. If solved correctly, the harder words yield more coins, which can then be used to buy additional paintbrush colors.
Once selected, you are presented with your palette: a blank white screen with a few colors at the top, and tools at the bottom to erase and change your brush size with. Using your fingertip, you pick your color and the size of your brush and draw your chosen subject.
When you're finished, you submit your masterpiece and it is instantaneously received on your teammate's device, where they guess your drawing and send you one back.
Guessing comes a little easier in "Draw Something" than it does in "Pictionary," as you are given a word bank of letters that you drag and drop into appropriate spaces.
One of the perks of the modern-day version is actually getting to watch a video of your ally's drawing as they create it, providing a perfect opportunity to tease them about their pathetic attempts later.
Whether you guess correctly or not, the game goes on. There are no penalties for losing, which makes for a delightfully stress-free gaming experience.
Users can play the game in its entirety for free, though those using Apple products might find the subsequent ads a little irritating. Besides ditching the ads, all the full 99-cent version really boasts is a larger dictionary of words to choose from, though it isn't enough to affect your gameplay one way or another.
The game runs beautifully with crisp, clear graphics, near-instant load times, and an interface that is easily navigated, even for new gamers and young ones.
Sadly, "Draw Something" is not currently available for Blackberry devices — one of its few downsides.
The pop culture challenged may also find some of the word choices occasionally too celebrity-focused. For instance, don't do as this writer did and stare at the word "paulyd" for a good 10 minutes before resorting to Google and discovering that Pauly D is a disc jockey on "Jersey Shore."
But the sheer enjoyment the game has to offer, as well as the unbeatable price for a game with a lot of replay value, easily outweighs these few cons.
Rating: A
—Whitney Knight
Online Editor
To contact Whitney Knight, email onlineeditor@occc.edu.