'Dope' modern take on the classic coming of age tale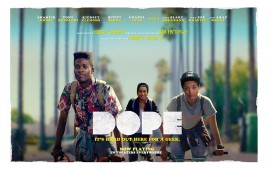 Sex, drugs, lies and gangsters turned Malcolm's life upside down.
Every person has a story – their very own experiences.
Every person has made life altering decisions that impact their future.
Every person has been in a position where they stop and consider the consequences and possible outcomes of the decisions in their lives.
Malcolm's story in the film "Dope" is no different.
High school student Malcolm is studious, focused and determined to attend college after graduation.
He seems to have his life under control – taking the SAT's and filling out college applications.
For a senior, Malcolm has a good sense of who he is and what he wants to become.
Son of a single mother and living in Inglewood, California, Malcolm has survived being sucked into the hood life by keeping his head down until he's invited to an underground party by gangster Dom.
Malcolm questions whether or not to attend the party. What will happen? Will there be drugs? Should my friends go? Will I die?
Malcolm puts his future and all the hard work he's put in thus far on the line.
Director and writer Rick Famuyiwa beautifully intertwines the lives of the characters. Just like Malcolm, his friends and new acquaintances make decisions that begin to affect him in one way or another.
Though the film has some R-rated scenes, the story is real and raw. Life isn't always pretty.
Malcolm, like many teens today, is exposed and encouraged to do the "cool" thing and later find themselves in trouble.
Although Famuyiwa uses humor and drama to tell the story there's an underlying truth and sadness that teens, specifically African American males face.
After watching the film on Netflix, I had to take a minute to process what Malcolm just lived before my eyes. Viewers should expect to feel just as impacted and question society.
People who liked the films "Straight Outta Compton" and "Fruitvale Station" will enjoy watching this film.
Rating: A+