Donors needed for community awareness project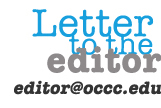 To the editor:
A few of the Surgical Technologist Students from Moore Norman Technology Center have adopted a community awareness project to focus attention on the need for donors to register with the "Be the Match" program run by our Oklahoma Blood Institute.
This program is busy hosting and promoting registry drives all over the state to find new and willing bone marrow donors.
We want everyone to think seriously about people they may know that have been affected by a blood disease such as leukemia, lymphoma, or sickle cell anemia, and the toll it takes not only on the patient but their family as well.
More than 10,000 Americans are diagnosed with these life-threatening diseases.
Only 30 percent of patients in need of a bone marrow transplant have a match in their own family. The other 70 percent rely on OBI's "Be the Match" program to find a donor.
Registry only takes about 15 minutes. To register, a person must be age 18 to 60, in good general health, and answer a few health questions, then provide a cheek swab sample.
All ethnicities are needed in the registry, but minorities are desperately needed at this time.
The little boy Isaiah, featured on our flier, is just one example of those that are in need of a bone marrow transplant.
He also represents one of the minorities that are in need.
You know you would be grateful if a stranger was willing to save your child's life.
Just imagine the great feeling of joy that you would have if you were the one to save a life. Register now and feel the joy.
The process of donation is not much different than giving blood, although on some occasions an outpatient surgery is needed.
No matter which process is needed, it is easy and causes minimal pain.
Our "Be the Match" drive is being held from 8:30 a.m. to 2:30 p.m. on April 28 in the health building at Moore Norman Technology Center, 4701 NW 12th Ave. in Norman.
Please join us. You may be the match for Isaiah.