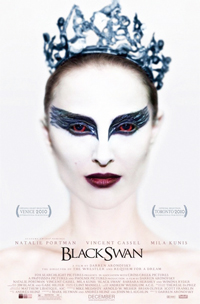 Darren Aronofosky is known for his films to divulge into the darkness and horror of the physical human condition.
Aronofosky has directed such diverse films and characters like the junkies struggling for their next fix in "Requiem For A Dream" (2000), to a washed-up professional wrestler with family issues in "The Wrestler" (2009).
His fifth film, "Black Swan" is no different than his previous work.
Nina (Natalie Portman) is a dancer for a ballet troupe in New York City.
The theater company's director Thomas Leroy (Vincent Cassel) decides to replace his lead ballerina Beth (Winona Ryder) for the company's opening production of a reinvention of Tchaikovsky's "Swan Lake."
While Leroy believes Nina is a respectable dancer, he does not believe she has what it takes to play the more physically demanding duel roles of the innocent white swan Odette, and her sensual, sinister double, the black swan Odile.
However, because of a sexual obsession with Nina, Leroy soon becomes fixated on using her to replace the aging, veteran lead ballerina Beth anyway.
Nina in turn becomes obsessed with not only surpassing Beth, but she also sets her sights on usurping young upstart dancer Lily (Mila Kunis) as well.
This sets up the rest of the film as "Black Swan" veers into uncomfortable territory at times with Nina driven to the point of obsession and neurosis as she attempts to best her rival Lily.
Natalie Portman deserves the Academy Award this year for putting on the performance of a lifetime losing herself in the role of Nina.
She's clearly trying to impress from attempting to get the ballet rehearsal scenes right to a fine piece of real acting in the much buzzed about, infamous scene with Kunis. Portman executes Aronofosky's twisted vision with as much precision as a ballet dancer executing a pirouette.
"Black Swan" does get kind of hokey and borders on absurd parody at a few points, but coupled with striking cinematography, strong acting, and an intense, distorted score of Swan Lake – "Black Swan" still manages to spread its wings in all of its cinematic splendor.
"Black Swan" is rated R for graphic sexual content, disturbing images, language and drug use.
Rating: B