Diggy Simmons lives up to his name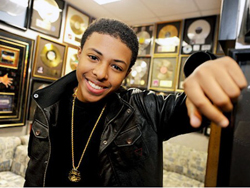 Most children want to grow up to be like one parent or the other but who knew Rev. Run of Run DMC would have a hip-hop child prodigy on his hands?
Daniel "Diggy" Simmons, the 16-year-old son of Rev. Run seems to be following in his father's lyrical footsteps, but is determined to make a name all of his own.
"Great Expectations" is one of Diggy's first singles released in 2010. This song is pretty much what is expected from the title. He raps about what is expected of him considering who his father is as well as what he expects from himself. This is a feel good, keep-your-head-up song and it should not be overlooked.
"Copy Paste" is a nice low mellow tune that can easily be bumped in the hottest of cars or just listened to at the crib, just on chill.
Diggy spits much game on the song "Made you Look," on which he uses several clever punch lines with great lyrical timing.
This isn't Diggy's first foray into the field. He has appeared on other up-and-coming artists' albums, one being the remixed version of Mindless Behavior's "Mrs. Right." He adds pure East Coast swag to this already danceable tune.
Diggy stunned hip-hop lovers when he participated in the Cypher on the BET Hip-Hop Music Awards with his I'm-not-scared-because-I'm-ready-for-whatever attitude.
He proves his lyrical chops when he performs a free style to Mobb Deep's "Shook Ones." Deep's version, released in 1995, is a hard act to follow but Diggy surprisingly holds his own in his two-minute sequel.
The Dig-ster deservingly made XXL magazines Freshman Class list of some of the most notable up-and-coming artists. This list includes Yela Wolf, Big Krit and Meek Mill.
Although he is known to use a few of what we in Oklahoma call curse words or just plain cussin', his songs are not profanity laced or explicit.
He is not speaking about women in an unflattering light nor is he promoting drug usage so he is somewhat parent friendly.
As of yet, Diggy does not have a release date or a title to his upcoming CD but it is highly anticipated.
He has two mixed tapes "The First Flight" released in 2009, and "Airborne" released in 2010, both of which met rave reviews.
If Diggy Simmons album stays in the same mind set of the songs he has already released his album would easily make it to number one status on the hip-hop charts … uh, that's if it ever gets released.
Rating: A
—Christy Johnsonxqz Staff Writer