Didn't know? Did you check your email?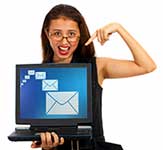 Enrolling and attending classes can be fun until students are forced to face the harsh reality that a college education is not free. OCCC Bursar Cynthia Gary said by following some simple steps, students can simplify their financial situation.
Gary said she emails students with important current information and even upcoming information concerning student accounts, payment plans and drop dates.
To begin with, she said, all students should check and read their student emails, especially those from the Bursar's Office.
Students who aren't able to pay their full tuition in advance are automatically set up on a payment plan, she said.
The four-month plan is set up to be billed via email on the fifth day of each month, she said.
If a student does not pay on the fifth of each month, a 2 percent calculated finance balance is added to the total.
Gary said once students receive email notification that a payment is due, they can access the bill online at the student portal through MineOnline.
Gary said this is a useful resource that will become increasingly more important after March when, in an effort to save money and time, paper bills will no longer be mailed to individual addresses.
Students will view their bills online and make payments with a credit or debit card, she said. Gary said students can help their parents sign up, as well.
"It's going to be really important that the student sign their parent up to get the bills via email, or they can print them out and take them to their parent," she said.
"The responsibility is going to be on the student that they make sure whoever is paying for their education receives a bill, or they set them up … with a parent pin."
Gary said students who do not have access to a computer or printer can use the computers on campus.
"The Com Lab has agreed they can do that there," she said. "They can do it in the Library. If they come here and use our kiosks … we'll print out the bill for them. We don't want it to be a hindrance."
Students who are paying by check can skip the line at the Bursar's office and use the drop box located by the Communications Lab on the first floor of the Main Building.
"They just need to put their ID on the envelope and stick it in the dropbox," she said.
"If they're paying cash, of course, they need to stand in line. We have kiosks here if they have a debit or credit card."
Students also will be notified via email about important drop dates.
Gary said those who miss drop dates may end up owing unnecessary money to OCCC.
Each semester, Gary said, many students do not drop their classes before the final drop date, which means they are charged for a class even if they did not attend.
"Once the drop dates have come and gone, I really can't help the student," she said. "We do have an appeal process, but if your reason is, 'I didn't know,' it will not be approved, unfortunately… .
"It's heartbreaking for students to think they know the drop dates and they really don't … ."
For more information, visit www.occc.edu/bursar/index.html or contact the Bursar's Office at 405-682-7825.
To contact Lauren Daniel, email onlineeditor@occc.edu
Photo by Stuart Miles, 17 August 2012 courtesy of freedigitalphotos.net