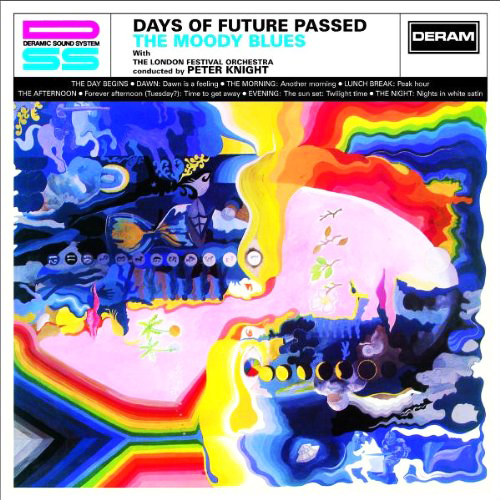 What do classical music, rock, and poetry have in common? You will find all three on "Days of Future Passed," a1967 album by The Moody Blues. The album was the second from the English rock group and was groundbreaking to music history.
After a few modest hits off their first album, the group decided to try a different approach to their sound for their next. Although an orchestral/rock collaboration of Dvorak's "New World Symphony" had been pushed by the record label, the album eventually became Moody Blues originals filled with accompaniment from the London Festival Orchestra after a suggestion from producer Tony Clarke.
The end results are phenomenal.
Designed to represent a typical workday, the album opens with "The Day Begins," a beautiful overture which features excerpts from some of the album's key tracks. Towards the end of the piece, a poem written by drummer Graeme Edge is recited, part of which is repeated at the end of the album.
"Dawn is a Feeling," a soft piano ballad, represents as the first "proper" song on the record with actual singing vocals. The album continues with "Another Morning," an upbeat dance tune written by and featuring the band's flautist, Ray Thomas.
Keeping with the upbeat pace, "Lunch Break: Peak Hour" produces another instrumental arrangement which fades into an abrupt rock piece.
The album dives in to a slower, more melodic tempo with "Forever Afternoon" (more commonly known as "Tuesday Afternoon"), perhaps one of the most well-known songs off the album. You can almost feel the sunshine and breeze as lead singer Justin Haywood's melodic vocals describe the perfect afternoon.        
Following is "Evening" which winds down listeners, preparing them for "Nights in White Satin," a piece iconic to the band that overwhelms with its eerie melody and intimate lyrics, and is sure to give listeners chills.
Another poem closing with the same lines as in the opening poem is recited, tying the entire album together.
Overall, the album surprisingly works. The orchestral music complements the rock lyrics and melodies nicely, creating a sound unique to its time. "Days of Future Passed" is a timeless album that is a must listen for anyone with an appreciation of older music.
Rating: A
—Erin Peden
Staff Writer