Dating Doctor visit goes off without a 'hitch'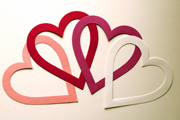 Finding a lifelong companion to marry is a daunting task, one that many college students are hesitant to take on, said a speaker on campus March 13.
"People are single because they don't know what to look for," said David Coleman, the Dating Doctor, in a speech on "Making Relationships Matter."
About 60 students gathered in the student union to listen to Coleman's presentation.
He talked about recognizing signs that a person might be interested in dating and how to give signs that you are interested.
He said one of the key signs of interest is eye contact. If a potential partner tries for eye contact and holds it, that it is an early sign.
Another important sign, Coleman said, is if the other person wants to be in your presence.
"Then you have hope," he said. If the person is not avoiding you and not making excuses to leave, then they might be interested.
Coleman interacted with the OCCC students who attended the show. He would throw chocolates to students who answered questions or made a comment.
Coleman's first question to the audience was: Who controls the relationship?
Many students answered that the female is in control.
"Wrong," Coleman said. "The person who cares the least is the person who controls the relationship." Coleman emphasized that relationships often fail if both partners do not show the same amount of care for the other.
"I will tell you what you need to hear, not what you want to hear," Coleman said.
He didn't just talk about being single and starting relationships. He also touched on how to recognize a healthy relationship and an unhealthy one.
"A healthy relationship requires three types of love: eros love, agape love, and philia love."
Eros love is the physical attraction and chemistry with the other person.
Agape love is defined as the heartfelt love that grows stronger over time and doesn't diminish.
Philia love is the ability to enjoy time as friends.
"You have to be happy to be around this person all the time," said Coleman when referring to philia love.
Coleman said that if any of these types of love are missing, then you are likely in an unhealthy relationship.
Coleman said the keys to a good relationship are working to maintain the relationship and love.
"A person should not marry out of obligation," Coleman said.
One student asked Coleman if he was married and if he used his own practices to find his wife.
"I was married, but have been divorced for a few years now," he said. "I am currently dating someone and have used my own advice to meet women in the past."
Coleman said this was his third time to speak at OCCC.
"It is one of my favorite campuses to come to," he said. In fact, Coleman was here last year.
Some students said they heard him speak then and came back to hear him again.
Coleman has done more than a thousand shows and presentations about relationships. He also does personal relationship counseling and coaching for people.
Coleman has released two books, "Date Smart!" and "Making Relationships Matter: 9 Ways to Stay in Love for Life" that can be purchased through his website www.datingdoctor.com.
To contact Kyle Woodard, email onlineeditor@occc.edu.