Dance Performance coming to OCCC theater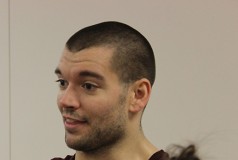 The curious, the well-versed and everyone in between are invited to come out to the contemporary Koresh Dance Company's performance on Tuesday, Jan. 24. The 90 minute performance will take place at 7:30 p.m. at the Visual & Performing Art Center Theater.
Founded in 1991 by the Israeli-born choreographer and artistic director Roni Koresh, The Philadelphia stationed Koresh Dance Company has been traveling and creating  performances since.
Dancers Kevan Sullivan and Vanessa Guinto instructed the Jan. 23 free hip-hop class that they allowed 50 students to attend and get a feel of what Tuesday's performance will entail.
"We want anyone and everyone to show up — especially people that have never seen dance before," Guinto said.
Sullivan praised Koresh's work for being a "great outlet for people who have never seen dance."
"Contemporary dance is a lot more relating to emotion and not necessarily a story." he said, "It's very human. Anybody and everybody can relate to it. Anyone that loves athleticism, art, music and environment I think will really enjoy the show"
Tickets for the event are available here.