CSI, painting and more learned at summer camps
The outline of a body, a powdery substance and a note wait to be analyzed at a classroom crime scene.
Next door, the buzz of voices clash with the clicking of keyboards as different worlds are created.
In yet another room, mini Picassos are swirling and twirling paintbrushes to re-create 100-year old paintings.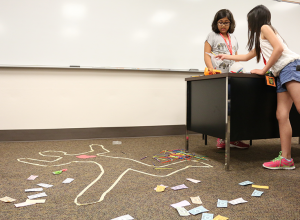 Crime Solver, Humanoid Robotics I, and Art of Picasso are just a few of the many classes children in OCCC's College for Kids program are taking this summer.
In 2007, Community Outreach and Education opened up College for Kids, said Director Jessica Martinez-Brooks.
She said the academic enrichment program is for children first through the eighth grade.
The various classes range from art to math to music, with robotics being one of the most popular classes, Martinez-Brooks said.
"Our cyber camp and our engineering camps and robotics camps are our most popular classes," she said.
"We partner with Techjoynt for some of our robotics classes. They do some gaming classes as well."
She said the number of children enrolled in OCCC's College for Kids program has increased each summer since it opened.
"Last year's total was 4,221 and the total enrollment as it stands right now just for this location is 4,242."
Despite being almost halfway through the summer program, Martinez-Brooks said there are still classes available. The cost is $39 per class or $99 for all day.
Martinez-Brooks said College for Kids also was given a grant to purchase the instruments for the music theater camps from the Trans-Siberian Orchestra, an American progressive rock band that tours nationally each year.
"All of our music theater camps do a big performance on the Friday of the last day of camp," she said.
"They perform music from around the world. I think that's one of the good things about a lot of our instructors.
"They are very culturally sensitive and trying to expose the kids to populations and demographics they might not get to see everyday at their school … .
"I think it's an important component of critical thinking and moving into a global environment.
"What's great about these classes is that [the students] get exposed to some potential degrees that they might be interested in … . It's almost like a career discovery type class."
Martinez-Brooks said she strives to keep the cost of the program down so everyone can afford it. Pricing has remained the same since 2008, she said. And, OCCC receives help.
"Oklahoma City Public Schools actually helps provide the staffing and instruction for those classes so there's no cost to the students if they come from Oklahoma City Public Schools district," she said.
They also partner with the Food Bank and John Glenn Elementary to provide lunches, Martinez-Brooks said.
"It's always been a priority for us to make things as affordable as possible."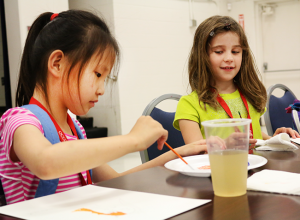 Martinez-Brooks said a majority of those enrolled are returning students.
"I have one kid who's been with me since he was in first grade and now he's going into the sixth grade," she said.
"It's nice to see them grow up, mature and have these adult conversations with you. You talk to them and say hi and you just establish this bond and this relationship with the kids coming in."
She said one hope as an outreach program is to establish a relationship between the kids and the college.
"We are here … to expose your child to some different programs we feel are valuable," she said.
Martinez-Brooks said parents can still sign their children up for classes, but the cut-off for a class is 5 p.m. the Thursday before the week it starts.
"It is very worth it," she said. "There are just not a lot of places for kids to go in the summer that are not only academic enrichment programs, but also a place where parents feel comfortable dropping their kids off.
"I think we have built that environment here at the FACE Center."
For more information or to enroll, contact the FACE Center at 405-686-6222, visit occc.edu/summercamp or enroll in person at 6500 S Land Ave.