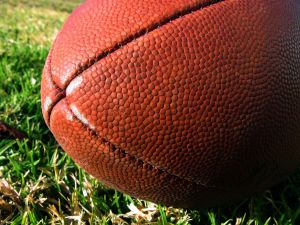 Replacement quarterback Josh Vanover proved to be the deciding factor in leading a come-from-behind 36-31 victory for The Crew over the Thunder during the Oct. 1 intramural flag football game on campus
Vanover regularly plays for You Know. He came in late during the first half to play quarterback for The Crew after the team fell behind 24-0 in week three of the flag football season.
He led The Crew to their first win of the year.
The Thunder appeared to be running away with the game after scoring 24 unanswered points with under five minutes to play in the first half. They seemed all but certain to clinch their third win in their first three games.
Adjustments were needed in order for The Crew to get back in the game, and that adjustment came in the form of Vanover.
Sports assisstant Charlie Tarver said borrowing a quarterback from another team is allowed for a single game. If a player participates in more than one game on another team, he is not eligible to play for any others.
A lot of credit is due to Vanover, who quickly put The Crew on the board with a touchdown pass to Austin Hiltergrand, whom Vanover replaced at quarterback.
Nevertheless, it may have been Michael Ware's interception just before the end of the half, which was returned for a touchdown, that changed the momentum of the game for both teams.
In the second half, Vanover scrambled from a potential quarterback sack all the way into the end zone to bring The Crew within two points.
Hiltergrand intercepted a Ben Roberts long pass, returning it for a touchdown to give The Crew their first lead of the game, and which allowed Vanover to complete a two point conversion to give The Crew a 30-24 lead.
Roberts refused to let the interception mess with his head as he came back onto the field, connecting with Jeremy Carolina on a deep pass for a touchdown.
He then connected with Donald Worth for a one point conversion to give the Thunder a 31-30 lead.
Vanover would take The Crew down the field pass by pass to set up the game-winning touchdown pass to Gregory Anderson to put The Crew ahead 36-31.
Roberts would make one more valiant effort, but led his receiver too far out of bounds as time expired to end the game.
When asked about how the Thunder let their giant lead slip away, Roberts was matter-of-fact.
"We had a lack of effort and showed a lack of defense," he said. "There was a lack of pulling flags."
On the other end of the scoreboard, Vanover and The Crew were all smiles.
Vanover summed it up.
"Receivers started making great catches, and our defense then stepped up," he said.
"I just tried to help play quarterback."