County health departments flu clinics open to public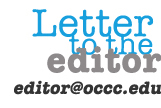 With flu season just around the corner, the Oklahoma State Department of Health announced that county health departments began offering flu vaccines statewide Oct. 12.
Flu vaccination is recommended each year for everyone six months of age and older.
When more people are vaccinated against the flu, there is less opportunity for flu to spread in families, schools and communities.
"We are learning more and more about the benefits of influenza vaccination every year," said State Health Commissioner Dr. Terry Cline.
"One example is the benefit for pregnant women and newborn babies.
Flu vaccination not only protects pregnant women, but also protects their babies for up to six months.
Since influenza is more likely to cause severe illness in pregnant women and newborns this protection is important. Flu vaccination is safe during pregnancy, after delivery, and for breastfeeding women."
In addition to getting a flu vaccination, persons 65 years of age and older, and those with chronic health conditions, should ask their health care provider about being vaccinated against pneumococcal pneumonia.
Pneumococcal pneumonia is a common and potentially serious complication of the flu. Unlike the influenza vaccine, the pneumococcal vaccine does not need to be given every year.
This vaccine is also available at county health departments.
County health departments will accept SoonerCare, Medicare, all private health insurance, cash, checks, or credit cards as payment for flu vaccine.