Computer-aided design everywhere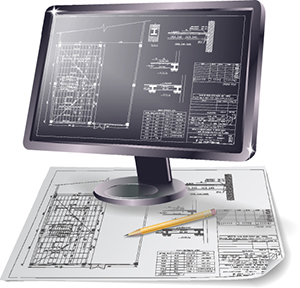 Computer-Aided Design, or CAD, is a field that applies to a variety of different occupations, said Computer-Aided Technology professor John Helton.
Helton said Computer Aided Design can be used in architecture, engineering and video game design.
Although a typical college student would not know what Computer-Aided Design is, Helton said, it is all around.
"If you've got a book for like a washing machine or a dryer and you've got that electronic schematic that shows how the whole system is wired up, someone had to create that drawing.
"If you've got a lawnmower and you've got this assembly drawing showing you how to put it together, that was drawn in CAD software.
"If someone is in the machine shop and needs to build something," Helton said, "they need working drawings."
In CAD class, Helton said, students use software called AutoCAD.
"It's a trademark name," he said. "AutoCAD has been around since 1982 and I've been using it since 1986.
"The software has developed into what we call parametric modeling, where we design three-dimensional buildings and mechanical parts, and it does all the drafting for us," Helton said.
"So instead of a drafter spending hours and hours drawing the front of a building, they basically design the building and the software creates that 2D drawing.
Helton said many of his students are from the University of Oklahoma, Oklahoma State University and University of Central Oklahoma.
"Because when you get into the College of Architecture or the College of Engineering, they don't teach you the CAD software.
"They just assume that you know it or that you will pick it up.
"It's kind of like a math class that expects you to use a calculator but they won't teach you how to use a calculator."
Helton said his students are ready for university work.
"[When] they leave [the CAD] class, they should be able to draw anything that is presented in front of them," he said.
"So if it's a floor plan, if it's a mechanical drawing, if it's a site map, they should be able to draw it (with AutoCAD)."
Helton briefly described life before professionals had the benefit of Computer-Aided Design software.
"On the drafting board, users would spend hours just drawing those by hand," he said. "Well, now we can actually do it all on the computer."
Helton said before CAD software, blueprints were actually blue because they had to be printed with chemically treated ammonia.
"The field's the same," Helton said. "It's just that the technology we use is a lot different."
For more information, visit occc.edu and choose "Computer-Aided Design" under "Browse our Programs."