Communication Makes Communities, Speaker Says
BY IDA STALLVIK
Marilyn Luper Hildreth, daughter of Oklahoma City civil rights icon Clara Luper, believes the better people communicate, the better the country will be.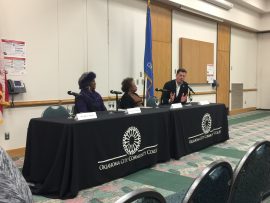 Hildreth made the statement during a Black History Month presentation at Oklahoma City Community College. On February 19, OCCC hosted an Excel Series titled "Dreams, Struggles, and Breakthroughs: An Open Discussion of Black History in Oklahoma City."
"I think that a lot of our fears are because of lack of communication," Hildreth said. "We separate our own selves and then we wonder why. What is this injustice about but we're causing it ourselves?"
The Katz drug store sit in protest by Oklahoma history teacher Clara Luper and her students took place in August 1958. Katz was a popular place to grab lunch or a Coca-Cola, which is what Ms. Luper ordered, but she was denied service.
Joyce Henderson, a student of Luper's, spoke about her time at the drug store sit-in with Luper. She said the Katz lunch counter was a nice place to stop for an ice cold Coca-Cola or a hamburger and take a bit of a breather – unless you happened to be black. In those days, dining establishments, water fountains and even elevators were still very separate.
After being denied service the first time, Luper returned to Katz drug store alongside her students in effort to protest the injustice.
Henderson said the students joining Luper's fight sat hour after hour, silently demanding to be heard, only to return the next day. Eventually, Katz's management relented and some white customers offered to buy lunch for the polite young crowd. The sit-in prompted Katz to change its segregation policy – not just in Oklahoma, but in other states, as well.
The protests caused the company to open service to every customer regardless of race, in all 38 of their stores in neighboring states.
Luper was arrested several times in her life for the fight against injustice. Oklahoma Representative Kendra Horn, D-Oklahoma City, underlined the importance of Luper's efforts last Thursday, February 28.
''I cannot and will not take that history and impact for granted," Horn said. "Although we have come so far because of her sacrifices and the sacrifices of other heroes during the civil rights era, there is so much work to be done."
The Civil Rights Act became law fifty-five years ago, and Americans continue to be faced with dramatic differences in success based on their race. According to a meta-analysis field experiment on racial discrimination published by the National Academy of Sciences in 2017, the levels of discrimination against African-Americans hasn't changed since 1989.
"The results document a striking persistence of racial discrimination in US labor markets," they said.
Even when minorities are hired it's usually for jobs that offer lower hourly pay, and African Americans work more for way less. This impacts the children born into poverty as well; where cost for childcare is so expensive it's out of reach.
Americans are mostly aware of racism. In an NBC news poll from last year, 64 percent of Americans believe racism remains a major problem.
Targeting of black people by the police can be seen clearly in the prison population in the most incarcerated nation. In Oklahoma, one in 15 black males is in jail. Oklahoma imprisons more black people than any other state, according to 2018 data from the Oklahoma Policy Institute. According to the Prison Policy Initiative, "only 13 percent of the overall U.S. population, 40 percent of those who are incarcerated are black." They go on to say that whites account for 64 percent of the country but only 39 percent of inmates.
Sentencing for minorities tends to be 19.5 percent longer than for whites, according to the U.S. Sentencing Commission. While slavery, segregation, and inhumane actions have been eradicated from our system of government and laws, discrimination, targeting, violence, and the fear of being attacked is a day- to- day reality for an overwhelming number of people.
Minorities stay in a continuous cycle of a system designed to be for "the people'', a system created when African Americans were still enslaved.
OCCC faculty member, Alex Comer, praised the forum. "It was awesome. It was informative, very interesting, and also amazing to get personal impacts from people who actually had to live it, and then to be able to explain to us 50 years later, still the impacts they are seeing from later," he said.
Black history month started with initiatives from university professors at Kent State, and had its first celebration in the 70s. Oklahoma had a range of events around the state commemorating iconic civil rights leaders like Luper, and raising awareness of the persisting issues of discrimination and systemic racism.