Comm Lab hosts writing workshops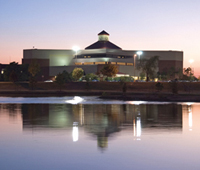 A modest amount of attendees were present when the Communications Lab host an hour-long workshop at 11 a.m. Monday, April 2, in CU2. Assistant Tonja Nelson, said the theme was "A Writer's Voice and Audience."
Through a PowerPoint presentation, handouts and a number of interactive exercises, students had the opportunity to become familiar with the essentials of written pieces.
The subject matters included understanding how to organize, research and present certain types of topics through consideration to personal style and reader perception.
Nelson, who provided treats, also provided examples to help illustrate proper methods. Afterwards, attendees were put to the test and allowed to create their own structured outline.
The next workshop will take place at 11 a.m. and again at 6 p.m. on Monday, April 16, in CU2. Brandon Isaak, senior assistant, said the theme will be "Persuasive Writing."
Isaak said he will most likely present through a PowerPoint, as well as utilizing hands on exercises.
"We'll also have some sorts of collaborative activities," he said, "so that what's learned can apply directly to something that students can use either in class or in everyday life."
Isaak has previously hosted other workshops, such as those specifically related to recognizing and using redirect writing, he said.
"I typically make connections to real things, like news and advertising," he said.
"I won't be straining too far away from that with this one.
"But it'll be an overview of what generally is in a persuasive essay too."
These two workshops are some of many being offered this semester related to the writing process.
Nelson also said she recommends visiting the Communications Lab, located just outside the union on the first floor of the Main Building, where computers, tutoring, handouts and more can be of helpful use.
To contact Nadia Enchassi, email onlinewriter@occc.edu.