College weighs in on bathroom politics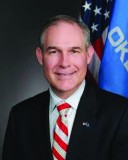 Transgender students at OCCC may safely use whichever bathroom is consistent with their gender identity without fear of facing discipline from school officials, according to college policy and Dr. Regina Switzer, OCCC's Title IX coordinator, making the college compliant with government recommendations about the issue.
This means that a transgender student may use whichever locker room, shower, changing room or bathroom correlates with their gender identity, said Switzer.
Last month, the U.S. Departments of Education and Justice released a joint directive on the equal and nondiscriminatory treatment of transgender students in government funded schools.
OCCC receives funding from federal government coffers.
The directive included guidance for educators about transgender students using restrooms and locker rooms, as well as recommendations related to athletics and gender identity.         
College Policy NO. 1012 assures that OCCC is already on track with the Obama administration's recent guidance on transgender students Switzer said.
"We have advised consistently with the directive when the question has come about the bathroom situation. It's been our position for a long time," Switzer said.
"Under Title IX, a law prohibiting gender discrimination in any federally funded education program, a school must treat students consistent with their gender identity even if their education records or identification documents indicate a different sex," said Switzer.  
OCCC's college policy NO. 1012 directly corresponds with this guidance, stating, "The College condemns discrimination based on sex or gender, sexual harassment, sexual assault, sexual orientation discrimination, discrimination based on gender identity or expression, and sexual misconduct."  The policy was last updated in February of 2016.
While the college has allowed transgendered students to use the bathrooms that fit their identities for years, some on campus, however, are concerned about the chance that this directive would pave the way for nefarious activity.
"My concern is not about transgender students, but rather depraved men with malicious intent choosing to abuse this new rule," Speech Communication Professor Julie Corff said in an email.
 "I teach several night intersession classes and am many times here when others aren't. It would be a huge concern for me personally."
State representatives are also providing pushback against the directive. Oklahoma is one of 10 states to join in a lawsuit against the President's directive, with Oklahoma Attorney General Scott Pruitt advocating heavily against it.
Pruitt said there was a fear of students deciding they were female solely to gain access to the women's restroom.
In a letter of reply to the directive, Pruitt wrote, "Students and their families cannot even seek reassurance that a transgender student's self-definition is not premised on whim," and that Oklahoma, "will vigorously defend the State's interests."
OCCC does not track the number of transgender students enrolled in the college.
Aubrey Meneses, a transgender woman and concurrent student at OCCC said she is also cautious about bathroom use because she fears for her own safety.
Meneses uses the women's restroom, as it is where she feels safest.
 "It's a matter of using the restroom that I feel comfortable in. I don't want to put myself in a position of jeopardy, because using the restroom can be scary for transgender people."
She said she disagrees with the state's lawsuit and other state's efforts to block transgender citizens' rights.
"These laws and bills that are being passed are mostly targeting trans women," she said.
"Some people have this misconception that trans women in particular are just men pretending to be women, but that's not the case."
 "We're women. It's who we are, and you need to respect that. It's not intended for any malicious purposes."
Even though cautious, Meneses said her experience at OCCC has been overall positive. 
"I always feel respected by my teachers," she said. "For the most part, with the other students I've been respected as well."
Her experiences are not common when compared with national data, however.
A national survey by the Gay, Lesbian and Straight Education Network found that 75 percent of transgender youth feel unsafe at school, and that 59 percent of transgender students have been denied access to restrooms consistent with their gender identity.
This can be highly discomforting for transgender students, and frightening, according to glsen.org.
Ryan Middleton, a transgender man and nursing student at OCCC, said he felt distressed when using a bathroom that doesn't fit his gender identity.
"Having to use the bathroom that doesn't correlate with my gender identity is a real ugly feeling," he said. "It's not fun. It makes me feel bad, and makes me and everyone else feel uncomfortable."
If any student feels uncomfortable using the women's or men's restrooms, they can safely use the gender neutral family restrooms located on the first floors of the Main Building, Science, Engineering and Math building, and Health Profession Center.