College to host volunteer fair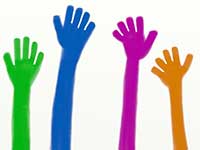 Volunteering one hour typically equals around $22 of labor. Add up all of the hours OCCC students, faculty, and staff volunteer each year, and the sum of money is huge, said Student Life Director Erin Logan.
OCCC partners with over 130 volunteer organizations. They are invited to campus to talk with students and sign up volunteers once each semester.
The Volunteer Fair will be held from 10 a.m. until 2 p.m. on Wednesday, Feb. 11 in the General Dining Area.
"Students have an opportunity to meet and talk to multiple agencies, get information, and find a good fit for them that will make their service experience valuable," Logan said.
In addition to the organizations, like the Oklahoma Regional Food Bank and Habitat for Humanity, the Oklahoma Blood Institute will also be in attendance.
"We've started, a couple of years ago, to do the blood drive at the same time, because that is also a service. The students can get an opportunity to talk to Oklahoma Blood Institute at the same time as the Volunteer Fair," Logan said.
Volunteering is an experience that changes students and the community for the better, Logan said. Part of what makes Oklahoma City such a great place to live is the compassionate, caring people and their willingness to serve.
"Oklahoma City Community College has the same values and the students are some of the best and hardest workers in the community," she said.
Logan encourages students to attend the Volunteer Fair to find an organization that interest them.
"It gives the students an opportunity to get out, to meet people, to find something and to give back to the community that gives to them as much as it does."
For more information, contact Student Life at 405-682-7523 or visit www.occc.edu/studentlife/index.html.
To contact Lauren Daniel, email onlineeditor@occc.edu