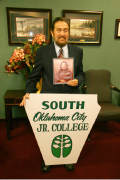 Photo Courtesy of Michael Cline
David Puenté poses with his 1976 graduation picture from South Oklahoma City Jr. College, which would later become OCCC.
A white-and-green acrylic sign with one of the college's earliest logos found its way back to campus just in time for the 40-year anniversary celebration.
On Oct. 18, OCCC graduate David Puenté returned a sign that once welcomed students to campus. The logo depicts a tree, a seedling sprouting new leaves, on a sign that measures about 3 feet by 4 feet.
Gary Lombard, vice president for Human Resources, and Lealon Taylor, executive director of Institutional Advancement, accepted the gift on behalf of OCCC.
Lombard is one of OCCC's original employees and he said he remembers Puenté during his college days.
Puenté graduated in 1976 from what was then called South Oklahoma City Junior College.
He said earned his degree in Corrections due to the encouragement of Professor Pat Barker.
Puenté went to work at El Reno federal prison and retired in the late 1980s, due to health problems.
Puente said he had been diagnosed with chronic arthritis of the blood vessels, which would cause his hands to freeze, almost paralyzing him. This condition not only caused problems for Puenté but also put him in danger while working in the prison. Therefore he was given medical retirement at a young age.
Prior to retirement, Puenté attended Central State University, which is now the University of Central Oklahoma.
After his retirement, he continued to do many other jobs, such as working in half way houses, and even at an Atlanta prison.
He said he considers himself lucky to have gotten a chance to attend college.
In fact, Puenté said, he delayed his college education for one year after graduating in 1971 from Capitol Hill High School, waiting to see what his military draft lottery number would be.
During the Vietnam War, a lottery was created to select which men would be drafted into the war. The men were told the first 100 would be drafted and the next 100 had the possibility of being drafted, depending on what the troop needs were.
The last 100 were told they would not be drafted and to move on with their lives.
Puenté's lottery number was 313, so he said he enrolled in college knowing he could expect to finish without an interruption for military service.
He worked as a work-study student in the mailroom and on the ground crew.
He explained how he came to own this sign. The sign was lying on May Avenue, discarded along with other items.
"Elven Gray, who was the maintenance supervisor, told me to pick it up, that it might be worth something one day."
In his last moments of having the sign in his possession, Puenté gave it a kiss and said: "I wish it never ended, best years of my life."
The sign will be one of the many items featured in the OCCC 40th anniversary celebration next September.
To contact Samantha Waddell,
email onlineeditor@occc.edu.