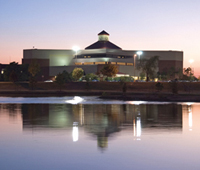 Increased enrollment during recent years is creating a new potential problem for OCCC: some students may have to be turned away.
State budget cuts to higher education has left OCCC without the money needed to hire new faculty as more students than ever are enrolling in college courses.
"Our enrollment, generally in fall and spring, is related to employment," said Stu Harvey, executive director of Planning and Research.
"When there's high unemployment, which there has been through the recession, then there's higher enrollment."
Felix Aquino, vice president for Academic Affairs said the lack of faculty is the largest constraint on growth.
"We have room for students. It is absent new full-time faculty that we will not be able to grow."
Associate Vice President for Academic Affairs Greg Gardner clarified that there are certain time slots that are at or near capacity.
"Where we're really constrained, facilities-wise, are 9, 10, and 11 o'clock. Those are our peak usage times," Gardner said.
"We still have capacity at alternative times. Our constraint now is availability of quality instruction. That hampers us sometimes more so than availability of space.
"Availability of space at those three times, either Tuesday/Thursday or Monday/Wednesday/Friday, at 9, 10, 11 o'clock, is really tough to find an opening. That's an issue.
"We still have capacity," Gardner said. "We're not at 100 percent all the time."
OCCC President Paul Sechrist said academic buildings have been the priority in the past when OCCC expanded by adding the Robert P. Todd Science, Math and Engineering building; the Health Professions Center; and phase one of the Visual and Performing Arts Center, the classroom portion.
"We built three buildings … pretty quickly, dramatically expanding our classroom and lab space," Sechrist said, "primarily because we wanted to make sure we had enough capacity, physical capacity, for a growing student population.
"Now the downturn in the economy, which we did not predict and no one anticipated, caused our enrollment to shoot up much more than anticipated."
Sechrist said the college is likely reaching capacity, although, he said, college officials could probably look at managing classrooms more effectively.
"After we get the theater up and running, you will probably see in the master plan some new academic building that will be classrooms."
Sechrist speculated that the old Child Development building could be renovated in the future to house some of the administrative offices from the main buildings, opening up more space for classrooms.
Future expansion plans are a moot point, though, if OCCC can't find the money to hire more quality instructors to fill those positions.
"Last fall, we were at capacity." Aquino said.
"There were no more adjunct faculty. We had completely tapped out the supply of adjunct faculty, especially during the day."
"Most of the students want to take courses between 10 a.m. and 2 p.m.," Harvey said.
"That is typically … how a college can meet new enrollment gains," Aquino said, "is through hiring adjuncts, but we're tapped out."
"Many of our adjuncts have full-time jobs and teach," Harvey said.
"When students want to take courses between 10 and 2 o'clock, but the adjuncts are only available at night, it creates some issues."
"Really, at our existing level for fall and spring, we're close to capacity," Harvey said.
Aquino is inclined to agree.
"[Enrollment] can't increase.
"It will be maintained, but we cannot take more students than we did last fall,"
Aquino said.