College event urges students to play Pokemon Go while preparing for school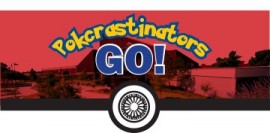 Oklahoma City Community College will host a "Pokcrastinators GO" event  to give procrastinating students "an extra push" to complete their enrollment for the fall 2016 semester.  
The event is scheduled for 9 to 11 a.m. and 2 to 4 p.m. Wednesday, Aug. 10 through Friday Aug.12. Students can also participate from 1 to 4 p.m. on Saturday, Aug. 13.
As part of Pokcrastinators GO, OCCC will set up Pokemon lures at 18 locations, including 15 campus Pokestops and three gyms. The game is designed to allow students to catch Pokemons while waiting in line to finalize their enrollment, said OCCC Public Relations director Deirdre Steiner.
Pokemon Go is an augmented reality game played on smartphones. The game allows users to capture little monsters known as Pokemon.
"The main purpose of the event is to try to get students to come and get all of their things taken care of for the fall semester if they haven't applied yet, or they haven't enrolled or haven't got their books yet, " Steiner said. (There are ) a lot of steps before you actually start on Monday."
Steiner said students can visit Pokemon locations by using the navigating system in the Pokemon Go game or by using OCCC's interactive mapping system.
"We actually set up a webpage on our website to actually help people find where they are going," she said.
Steiner said the event is about to promote the online mapping system of OCCC, called MyWay, for new students in order to help them get used to the campus.
"You can actually get to different levels of the buildings, different classrooms," she said. "Campus is a little confusing for new students. The map really helps students figure out where they are going."
She said one other benefit from the event is that students can save a lot of time and get quicker and better service for whatever they need to get done when they come to campus during the event hours, she said.
"We are always super busy at lunch time so students come at noon might standing in the longest line and maybe have the slowest service. So students who come earlier in the morning or later in the day will get a lot quicker service and we will able to take care of things faster."
Music major Isaac Gaccia, said the event will keep students entertained when they come to campus.
"I am glad to see them keeping up with trend and actually find a new way to get the students to come," he said.
Gaccia said he has only found out five Pokestops on campus, but with the assist of the interactive mapping he now could find more Pokes locations.
He said he hasn't enrolled for classes in Fall yet, but he would definitely come to campus during the event hours to get his things done while still looking for new Pokemons.
Undecided major Bryan Huynh said the Pokcrastinators GO event could motivate many Pokemon Go players go to college.
"It is a great idea because there are many kids who don't want to go to college, but if they see Pokemon Go comes around, they will change their mind" he said.
For more information as well as the directions to get to Pokestops and Gyms on campus, visit http://www.occc.edu/pokemon/