College degree paves road to success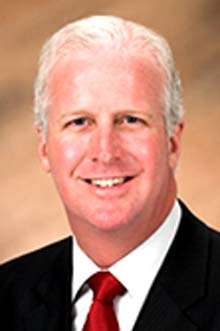 The college Board of Regents recognized Devery Youngblood on April 27 for his service as a regent and presented him with a framed proclamation, thanking him for his dedication to the board.
Then he was sworn in to serve a full seven-year term, after being reappointed by Gov. Mary Fallin.
Youngblood served the remaining four years of Dave Lopez's term when Lopez was appointed as Secretary of Commerce.
Youngblood said he chose to be a regent, which is a volunteer position, because of the students.
"I've never enjoyed anything as much as this board and the reason is you guys: the students," Youngblood said.
Though his commitment to higher education is significant, Youngblood said it has not always been that way in his life.
He said he identifies with college students in many respects.
"The students here remind me of me," Youngblood said.
"I was a first-generation college student. I had no encouragement to go to school.
"The first time I tried it I bombed out, to be honest.
"I went to a university, but I didn't see any purpose behind it. My grades went down quickly because I didn't care.
"I didn't have any real track record but that of a dropout. It was only later that I realized I wasn't going to get to do anything I really wanted to do unless I had a degree."
Youngblood first attended Southwestern Oklahoma State University.
When he returned to college, he received his bachelor's degree from Southern Nazarene University.
"I am also a student now —for two more weeks," Youngblood said. "I am about to finish my master's."
He is completing a master's degree at the University of Central Oklahoma in public administration.
As a regent, Youngblood said, he was honored to be a part of selecting the new president of OCCC.
"The biggest thing, obviously, that we've done in the last year is we've selected a new president.
"That was a lot of time and a lot of effort and a lot of meetings, and needed to be.
"It's the most important thing that we'll ever do because we put great trust in the presidential position.
"We want to make sure they are doing the right things by those who are here who are teaching, who are called to that incredible position to teach and to help, and to prepare that next generation, as well as our students."
The Board of Regents elected to search for a presidential candidate internally before considering external candidates.
Youngblood said he was pleased with this decision.
It resulted in the appointment of Jerry Steward, the college's executive vice president.
"We felt like that was a testimony to what was going on here at the school.
"This school is very well run," he said.
Youngblood works for the Chickasaw Nation, managing community affairs and economic development.
To contact Darla Kilhoffer, email onlineeditor@occc.edu