College becomes even more green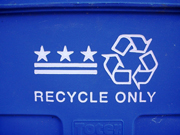 Ecological changes are in motion at OCCC via the Green Task Force.
The Green Task Force, formed three years ago, is an organization with the mission to increase awareness and environmental responsibility throughout OCCC, said Lisa Teel, Emergency Planning and Risk Management director.
The Task Force committee is responsible for several initiatives, Teel said, including the bottle and can recycling machines that can be found in the Student Union.
"Each year the Task Force adopts initiatives that fit within its mission," Teel said.
One of the initiatives the task force has implemented in the last three months is the 85 paper recycle bins, she said.
Teel said the goal for the bins is to reduce the waste that is taken to landfills.
She said the Task Force came up with vision for the recycle bins but it was Facility Management workers who found and ordered the bins.
Facility Management selected the locations for the bins that were purchased, Teel said.
She said the bins are for paper products only.
The Green Task Force is asking that everyone on campus participate by recycling paper products.
There are not enough paper recycle bins to place in every classroom or office on campus, Teel said, so locating the bins or walking to them to recycle the paper products might pose a hassle for some.
Teel said she hopes students will make the effort, suggesting forming a routine that includes taking paper products to the recycle bins.
"If there is no paper recycle bin near, save paper products in an old box and empty it once a week in the blue bin," Teel said.
For more information about the Green Task Force, volunteering and further initiatives, contact Teel 405-682-1611, ext. 7148.
To contact Emily Schorr, email staffwriter1@occc.edu.