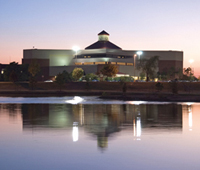 OCCC will be honoring seven college alumni, as well as two community leaders, on Tuesday, Nov. 15, by inducting them into the Alumni Hall of Fame. The banquet and inductee ceremony will be held in the general dining area of the Main building on campus and will begin at 6:30 p.m. All staff and faculty have been invited, along with members of the Association of Alumni and Friends.
All inductees have been nominated by their peers or college staff members, who find them extraordinary, said Lealon Taylor, the college's executive director of Institutional Advancement.
The 2011 Alumni Hall of Fame inductees are:
Jessica Estrada, Target pharmacist;
Angela Hill, associate librarian for the Metropolitan Library System;
Phong Hoang, pharmacist at the University of Oklahoma's Pharmacist Care Center;
Sunny Lee Fanning, superintendent of FAA Academy;
Michael Jackson, associate director of The Education and Employment Ministry;
Brian Lamkin, Age Management Medicine Physician for the Lamkin Clinic;
Mike McAuliffe, CEO of Doctors on Call, OKC Motorsports, Oklahoma Energy Grand Prix and OKC Events & Entertainment; Jaquie Sherrard, OCCC executive assistant;
Markus S. Smith, OCCC political science professor.
Also being honored with the seven alumni are Thomas L. Legan, president and CEO of Coppermark Bank and Coppermark Bancshares, Inc., and P.B. Odom, third generation home builder and president of P.B. Odom Construction Company.
Smith said he was humbled by the acknowledgement. He said his goal is to inspire students.
"I love the fact that being an alumni, I can look at my students and say that I once sat in their seats," Smith said. He wants his students to know that he understands how overwhelming college can be.
Smith earned his associate degree in political science from OCCC in 2001. Since then, he has obtained his bachelor's and master's degrees in political science, both from the University of Central Oklahoma. He earned master's and doctorate degrees in educational studies from OU. Smith has served as a professor of political science at OCCC since 2004. He also is an adjunct professor at UCO.
Lee-Fanning said she was surprised when she heard the news of her nomination.
"I received the news via email and never would I have guessed that someone felt that I was deserving of the recognition," she said. "OCCC gave me a great kick start to pursuing both academic and career plans, and I will always be thankful for that.
Lee-Fanning is a graduate of OCCC, as well as UCO, where she earned her master's in business administration. She was recently named superintendent of the Federal Aviation Administration Academy. Lee-Fanning also serves as vice-president of the OCCC Alumni Association board of directors and is an adjunct professor.
Estrada earned her associate degree from OCCC in Advanced Science in 2006. She continued her education and majored in pharmacy. Estrada finished her degree at the OU Health and Sciences Center in Oklahoma City. Just last year, she graduated with her doctorate in pharmacy and is currently working as the pharmacist in charge of a Target pharmacy in Oklahoma City.
Hill received her associate degree from OCCC in 2004. She has earned her bachelor's degree from UCO, and her master's degree from OU in Library and Information Studies. She currently works for the Metropolitan Library System as a librarian and also works part-time for Young Adult Services in the library.
Hoang received his associate degree from OCCC in 2005. He was soon accepted into OU's pharmacy school where he earned his doctorate in 2009. Hoang now serves as an adjunct faculty member for the OU Pharmacist Care Center and the Health Sciences Center's College of Pharmacy. He is also employed as a staff pharmacist with the OU Pharmacist Care Center.
Jackson earned his associate degree in sociology from OCCC. He then went on to obtain his bachelor's degree in social work from OU. Jackson served in the U.S. Army where he earned many awards. He currently works with The Education and Employment Ministry (TEEM), a non-profit organization that serves Oklahoma City with education, training and job placement assistance for those in need.
Lamkin began his college career at OCCC in 1992, where he obtained prerequisites to his profession in medicine. He went on to earn a bachelor's degree at OU in 1997. Lamkin achieved his Doctorate in Osteopathic Medicine in 2002 from OSU's medical program. Lamkin currently owns and operates the Lamkin Clinic in Edmond.
Mike McAuliffe earned his associate degree in corrections and in sociology at OCCC. He went on to UCO and Southern Nazarene University, obtaining his bachelor's degree in journalism, and his master's degree in management. After college, McAuliffe served as chief of staff for two Oklahoma City mayors. Today, he is the president and CEO of Oklahoma City Motorsports and OKC Events & Entertainment.
Jaquie Sherrard received her Associate in Applied Science degree in business from OCCC. Sherrard went on to graduate from SNU with a bachelor's degree in organizational leadership. She is currently working toward her master's in management. Sherrard is currently the administrative assistant to the vice president for business and finance at OCCC.
The festivities will begin with a welcome from Lealon Taylor and will conclude with a dinner. Business attire is required.
To contact Caysie Greenfield, email onlineeditor@occc.edu.