Coffee and Voting: Panel expresses importance of getting involved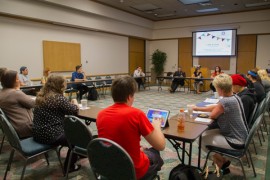 Oklahoma City Community College Students had the chance to ask questions and learn the importance of democracy during a "Coffee and Voting" event as part of the "Excellence in Cultural Education and Leadership Series" hosted by Student Life.
The event also included a voter registration table, information on the state questions that will be on the ballot this fall, and a small booklet containing the Constitution and the Declaration of Independence.
A panel consisting of three faculty members answered questions and spoke about their life experience in or around politics. The panel included OCCC Executive Vice President Steven Bloomberg, former Norman City Council Member Rachel Butler, and OCCC Special Events Coordinator Aislinn Burrows.
Several people asked the panel to try and explain why the candidates this year happen to be so controversial and still manage to be in the running for office. Having worked years under former Congressman Bill Thomas, R-California, Bloomberg explained his view on the presidential election
"This race is really going to come down to the fight between 'character' and 'personality and experience'," he said. "The first debate will define a lot of what we will see coming up to the election."
Bloomberg emphasized foreign relations and how much potential presidential candidates will have to face when coming into office. He spoke of the coup failure in Turkey, the world's fight against terrorism, and North Korea.
"It is a very interesting time internationally," he said.
Rachel Butler said her time with local government has changed her view on the importance of it. She said she won her seat and felt overwhelmed at the type of change she could create.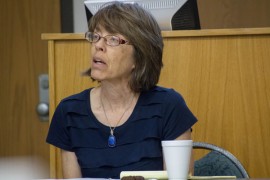 Butler said she found that through all the meetings and tasks she had to face, she knew that "people are elected to make decisions." Butler highlighted the importance of engaging with local government representatives. She said all the information is public, so any concerns or questions can be all answered "within a simple paragraph."
Aislinn Burrows said she has been involved with politics since the day she registered to vote. Bloomberg said Burrows was one of the most informed voters he knew. He said any questions regarding local, state, or national decisions could be clarified by Burrows.
"You have the power to choose, you can be the change you've always wanted," Burrows said, pointing to several people in attendance.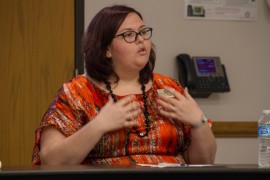 Burrows said that people need to see how the questions affect the bigger picture and can change much more than the immediate answer the questions are asking. A list of all Oklahoma state questions, past and present, can be found here.
The panel told the crowd that it's OK to not know which party to identify with. Burrows said the nonpartisan website www.isidewith.com has a questionnaire to voters understand where they stand on the political scale.
For more information, visit www.ok.gov/elections/ to find out about voter registration. The presidential election is Tuesday, November 8. The last day to register to vote is October 14.