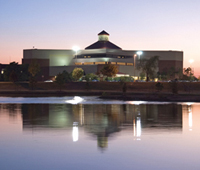 Students can make the most out of their time at OCCC and have fun in the process by joining a club. With almost 40 clubs on campus right now, there is something for everyone. Students also have the option of forming a new club.
Karlen Grayson, Student Clubs and Organizations assistant, said all that is required to form a club is 10 members, two sponsors, and a simple petition form available in the Student Life office. Petitions are filed with Student Life. The Vice President of Enrollment has final approval on petitions.
"We have four categories of clubs here at OCCC," Grayson said. "We have honor societies, departmental clubs that go along with your major, special interest clubs and religious clubs. Most clubs fall in the special interest category."
There are many reasons to join a club, Grayson said. The ability to network and build relationships with faculty and other students are chief among them.
Reports have shown that being involved with clubs during college helps with student development, Grayson said. Participation leads to greater success in college and, later, in careers.
Leadership skills are another important facet of joining a club, she said. Employers look for these skills in today's market. Grayson said they also reflect well on college résumés.
"To be officers students have to be enrolled in at least six hours and have a 2.0 grade point average," Grayson said.
Students can begin a special transcript that tracks involvement in various clubs, as well as community service, honors and awards, and more.
Student Activities and Recognition Transcripts, or START, can be submitted with both college and job applications. It is an official record of all activities. Student Life has brochures available to learn how to start one or students can visit Student Life online at www.occc.edu/StudentLife.
Maria Torres, business major, said she is going to join Phi Theta Kappa.
"I'm really shy normally, so hopefully it will help me be less shy," said Torres.
Karla Ortega, pre-education major, said she would like to join a multicultural club.