Clubs offer opportunities for students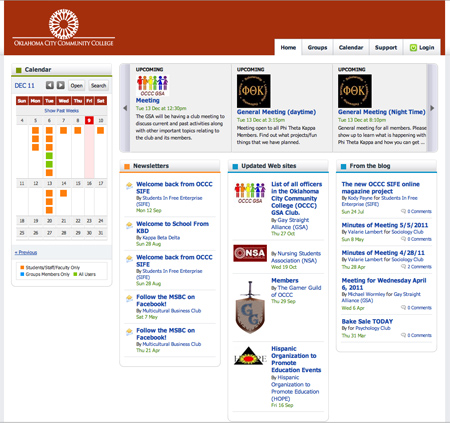 OCCC has 33 active clubs that a student can participate in. These clubs are divided into categories, on the Student Life website, that include: religious, department, special interest, cultural, and honors.
The Religious student organizations include Baptist Collegiate Ministries, Chi Alpha, Christ Campus Fellowship and Christians on Campus.
Karlen Grayson, the student clubs and organizations assistant in the office of Student Life, said Baptist Collegiate Ministries has the most meetings of any student organization with two meetings every week.
The department-centered student organizations include the Engineering Club, the Health Professions Club, the Multicultural Business Club, the Nursing Students Association, the Oklahoma Biotechnology Association, the Photography Club, Psychology Club, Sociology Club, Student Emergency Medical Sciences Association, Student Occupational Therapy Association, Student Physical Therapy Assistant Organization, Students In Free Enterprise, and The Art Guild.
The special interest student organizations include Advocates of Peace, College Democrats, College Republicans, Gay Straight Alliance, Moving In a New Direction, Oklahoma Intercollegiate Legislature, and The Gamer Guild of OCCC.
The cultural student organizations include the Black Student Association, Hispanic Organization to Promote Education, International Student Association, and the Native American Student Association.
The honors organizations include Kappa Beta Delta, Phi Theta Kappa and Psi Beta.
Student organization members said they focus on opportunities clubs make available.
Shawn Perkins, pre-engineering major and College Republicans member, said, "It gives opportunities to get involved on campus and express our beliefs."
Perkins also recommends giving a struggling organization a chance over starting a new one with similar goals.
Samir Howard, business major and member of the Black Student Association and the Gamer Guild of OCCC, said, "It opens doors to opportunities, to have new friends … meet different majors and faculty members, and meet students from other schools in organizations similar to yours."
Grayson said students interested in joining a club should watch for the Student Organization Fair in the spring, and on www.occc.edu/studentlife.
The spring Student Organization Fair will be 10 a.m. to 6 p.m. Wednesday, Jan. 25, in the general dinning area.
For more information, visit the Student Life website and click "join a club."
To contact Mike Wormley, email communitywriter@occc.edu.