Club dreams of the Big XII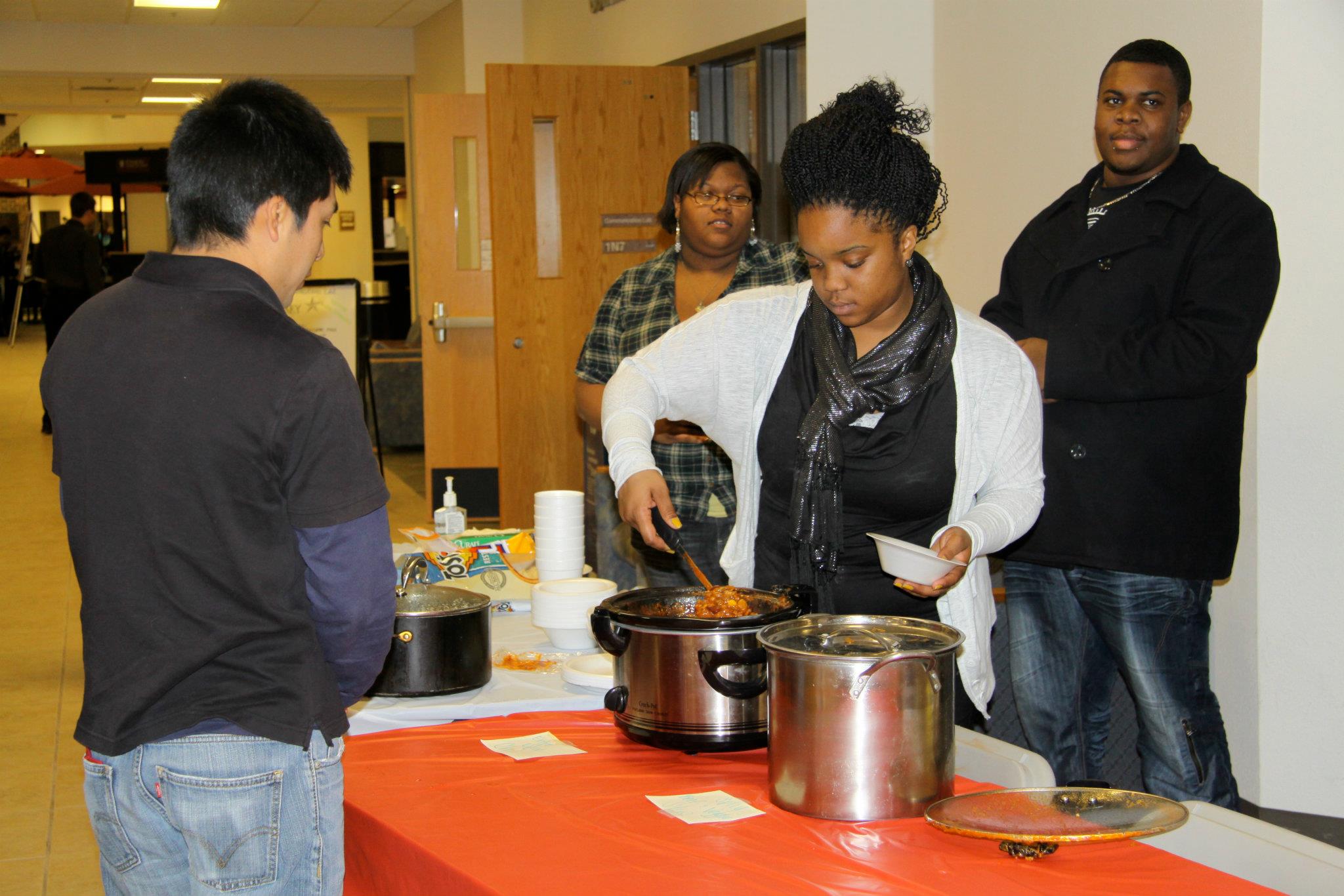 Nadia Enchassi/Pioneer
A member of the Black Student Association serves up a bowl of chili to a student during the club's chili and bake sale Jan. 23.
The Black Student Association hosted a chili and bake sale on Jan. 20 and 21 in front of the Communications Lab to raise funds for the 35th Annual Conference on Black Student Government.
Members of the BSA set up a booth and prepared three tables of food for purchase, ranging from chili to cupcakes to collect money for a conference being held on Feb. 23 through 25, at the University of Oklahoma.
The Big XII, known for its football and basketball ties, is hosting the conference, but will allow students from any college to attend.
The theme for this years conference is "Renaissance: Reawakening Black Excellence."
"We have to work very hard because, unlike four-year colleges, we have to raise all of our own money; whereas, the [the clubs of] 4-year universities are funded by their schools," said former BSA president Dayshawn Burns.
Burns said 22 club members are interested in attending the event, but if the BSA fails to raise enough money, it may have to limit the number who attend.
Due to the cost of the application fees, people who want to go may not have the opportunity because of amount of money required.
The $260 registration to the event covers workshops, motivational speakers, three meals a day, as well as entertainment throughout the weekend.
All students are welcome to attend the conference, though non-club members would need to pay for their own registration fees, lodging, and transportation which would cost around $350.
"You don't have to be black to go, but the event is geared towards black students," Burns said.
Club members raised money for the $260 registration fee, travel costs, and lodging for the duration of the event.
Burns said that they wanted to stay at the hotel the conference picked, but the club was unable to afford the price, and have had to settle for less expensive lodging.
The BSA will accept donations for this and future conference trips at any time.
For more information, contact Extended Services Coordinator Carlos Robinson at 682-1611, ext. 7553.
To contact Robert Bolton, email communitywriter@occc.edu.