Civil War brought about many U.S. firsts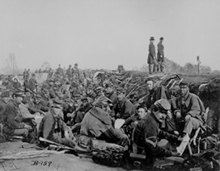 The Civil War, commonly referred to as America's bloodiest war, claimed 620,000 American lives and also brought about many firsts for America.
According to PBS.org, during the war the U.S. issued its first paper currency, called greenbacks, and the words "In God We Trust" first appeared on a U.S. coin.
It also was the first time black men fought as free men and American Indians became involved in U.S. affairs.
Ralph Jones, former superintendent of the Honey Springs battlefield, a historic Civil War site, said with the invention of photography, this became the war most easily connected with in a very physical way.
"The type of photography that made it well documented occurred first during the Civil War," Jones said.
"As well as the photography aspect, the armies were well organized.
Jones said both armies kept boxes and boxes and boxes of reports.
"Everything that happened, you had to do a written report on it and send it to higher headquarters, who then did a report on it, and sent it to higher headquarters.
"So the complete records of the war are probably in 168 different books," Jones said.
On a darker side, according to the Oxford Companion to Military History, the Civil War is the first and only war where Americans fought Americans, and also the only time the U.S. might have not have remained as one sovereign nation.
The first presidential assassination occurred in 1865, killing the leader of the Union Army President Abraham Lincoln.
In addition to a war of many firsts, the effects that echo through our history remain relevant today.
To contact Priscilla Colley, email staffwriter2@occc.edu.