Christmas concert planned for Dec.7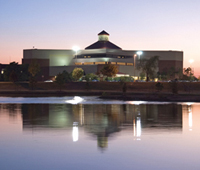 OCCC choirs will help bring in the holiday spirit as they take the stage at 7 p.m. Tuesday, Dec. 7, at Wilmont Place Baptist Church located at 6440 S Santa Fe Ave. The concert is free and open to the public, said music Professor Ron Staton.
The symphonic, concert, and chamber choirs will each have their own performance at the concert and the entire program will last between 60 and 90 minutes.
Songs will include Christmas tunes such as, "White Christmas," arranged by Anita Kerr; "Carol of the Bells" by Peter Wilhousky; "It's Beginning to Look a Lot Like Christmas," by Anita Kerr; and "On Christmas Night All Christians Sing" by Howard Helvey.
Staton said the choirs have put a lot of effort into their programs.
"All the ensembles have been working very hard all semester. We have really great choirs this year."
This will be the last performance of the choirs for the semester but they will resume work after the holidays, preparing two new programs for the next semester. Staton said he welcomes other vocalists who would like to join any of the choirs. Only the Chamber Singers must audition to join the group.
For more information about OCCC's choirs, contact Staton at 405-682-1611, ext. 7249 or by e-mail at rstaton@occc.edu.