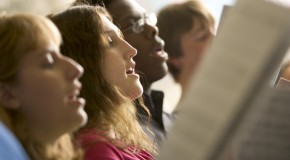 Voices from the Concert Choir, Symphonic Community Choir and Chamber Singers will fill the Visual and Performing Arts Center at 7 p.m. Monday, Dec. 7.
Music Professor Ron Staton said the evening will include everything from traditional songs such as "Let it Snow" and traditional carols like "The First Noel," to songs not as well known by the public.
"We have a few songs from other lands, like the 'Christmas Calypso' and the 'Brazilian Noel,'" he said.
Staton said there is truly something for everybody at the concert, including three piano duets he will perform with accompanist Lisa Barsaleau.
As OCCC students and community members sing side-by-side in each of the choirs, Staton said he hopes the concert will bring holiday cheer to attendees.
"I think people enjoy Christmas music and a concert like this helps get people in the mood for Christmas," Staton said.
Admission is free and everyone is welcome to attend, Staton said.
For more information, contact Arts Division Secretary Jessica DeArman at jessica.r.dearman@occc.edu or call 405-686-6278.