Choirs to perform for free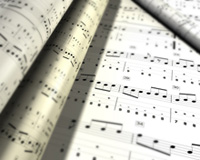 Salvatore Vuono/
FreeDigitalPhotos.net
OCCC choirs will be performing a mix of Latin and English music at 7 p.m. Tuesday, Oct. 11 at Wilmont Place Baptist Church, 6400 S. Santa Fe.
Admission is free.
Three choirs will be performing: symphonic, concert, and chamber.
"We're doing a varied program with all different styles represented," said Ron Staton, professor of music.
"We're doing songs by famous composers like Mozart," he said.
"Also there's going to be some jazz, and we're doing music from a Broadway musical."
Student vocalist Victoria Penrod, a member of the concert and chamber choirs, said they have been preparing for the performance all semester.
"It's just something we're really proud of and we love to share with people," Penrod said.
"I've heard choirs before that have made me cry, so you might come here and cry it because it sounds so beautiful."
In addition to the concert Oct. 11, individual OCCC vocalists will perform at a recital Oct. 31, which will include songs in Italian, as well as English and Latin.
For more information contact Ron Staton at 405-682-1611, ext. 7249.
To contact David A. Parada, email onlineeditor@occc.edu.