Children bring Valentine joy to an older generation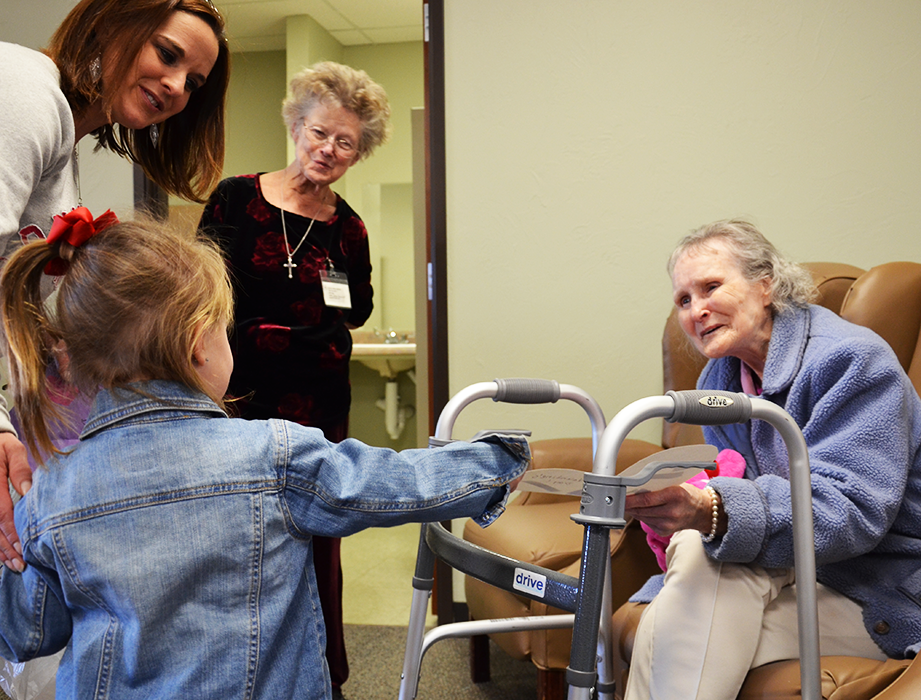 Preschoolers brightened the day for some older adults Feb. 14 by making and delivering Valentine cards for participants at the Daily Living Center, an adult daycare in southwest Oklahoma City.
The children of the OCCC Child Development Center and Lab School spent much of their week making the cards, said teacher Constance Pigeon.
Lee Ann Townsend, Child Development Center supervisor, said this is the third year the children have connected with this community through a Valentine's Day project.
A delegation of parents, teachers and children personally delivered the handmade cards to the residents of the facility.
"I think this is great," said Sherri Knox, nurse and director of the living center.
"The residents really look forward to the kids coming out. It puts a big smile on their face."
Knox said the adults looked forward to the interaction with the children.
Townsend said the two age groups are a great blend.
"There are no stereotypes," she said. "The grownups love the interaction. It brightens their day and helps their self-esteem."
A half dozen 3- and 4-year-olds, along with their parents, arrived at the adult daycare center about 3 p.m. They brought red-and-white paper hearts and Valentine cards for each participant.
The children walked around the room, shyly handing cards to each individual.
They were rewarded with broad smiles from the adults, many of whom have developmental disabilities or memory problems.
Kendra Miller, a teacher at the OCCC center and mother of 4-year-old Halle, was part of the delivery team.
"It's just a great experience for the kids and everyone involved," Miller said.
The children, parents and participants of the Daily Living Center talked, laughed and admired the handmade valentines.
"I loved it," said Phoebe Brewer. "These little kids make my life."
The children of the Child Development Center and Lab School won't have long to wait before their next artistic project.
Their art will be displayed during the Annual Children's Art Showat at the Child Development Center and Lab School from April 7 through 12. The center is located at 6500 S Land Ave., about one mile north of campus.
The center enrolls 111 children, age 6 weeks to 5 years, secretary Aryn Balfour said.
For more information, call 405-682-7561 or email ltownsend@occc.edu.