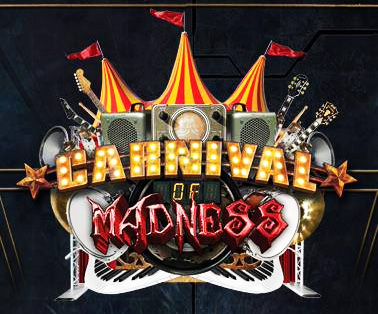 Ladies and gentleman, children of all ages: if you missed the Carnival of Madness tour, you missed out on one hell of a ride. Behind the curtains, I witnessed something I'd never seen before, heard before or felt before — one of the most captivating shows on earth.
The Oklahoma weather was unforgiving as the sun's intense rays beat down on musicians and fans alike at the fourth annual Carnival of Madness Tour on Sept. 8 at the Oklahoma City Zoo Amphitheater.
But that didn't stop We As Humans, In This Moment, Papa Roach, Skillet and Shinedown from giving the crowd their all, not even for a second.
Gates opened at 3:30 p.m. with the sun high in the sky as I made my way past the beeping metal detectors. I was greeted by a charming group of carnies and the jingles of the belly dancers who performed on stage later that evening.
We As Human played to the mostly still-waiting- in-the-line-to get-in crowd but most definitely made sure everyone in the surrounding neighborhood was wide awake, serving as a warning for louder things to come.
In This Moment followed with the ever-so-talented heavy metal goddess Maria Brink. She stepped up her stage presence since the last time I saw her just a few months ago. She presented a new live show featuring the violently sexy Blood Girls. The band elevated the energy of the set while the masked Blood Girls mirrored Maria's routine. It was simply breathtaking.
The heavy metal bombshell was a tough act to follow but the charismatic Papa Roach frontman Jacoby, with his high intensity performance, definitely took it up a few notches. Papa Roach maintained a high level of quality from start to finish.
The next band took the stage bringing the crowd to life as Skillet opened with the fan-favorite "Hero."
They kept the visual aspect of the show intriguing utilizing various strobe and smoke machines. When they performed their hit song "Awake and Alive," guitarists Corey Cooper and Seth Morrison played high above the stage on elevating hydraulic platforms.
If you're willing to travel, you can still catch Carnival of Madness. Visit http://carnivalofmadness.com for a list of venues.
Rating: A