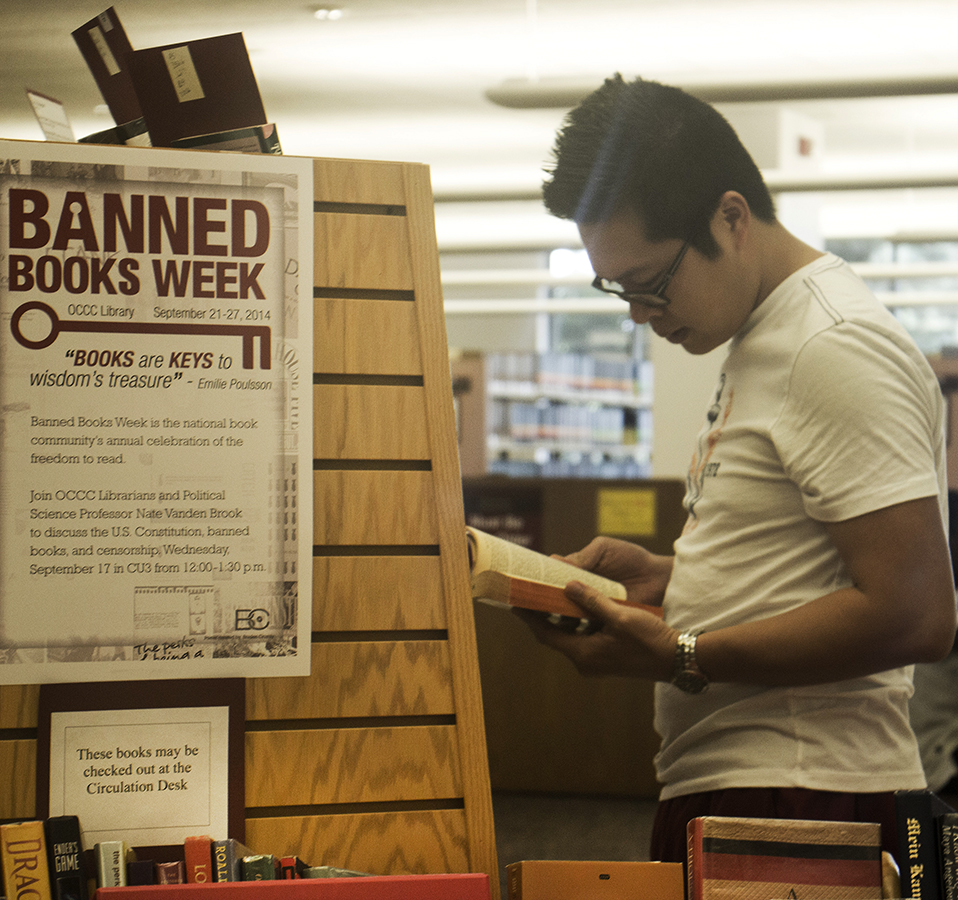 There is a group of people who don't want you or your children reading "Captain Underpants."
This is one reason Banned Book week exists.
The Keith Leftwich Memorial Library currently has a display of banned books so students can become acquainted with the history behind the practice, said Electronic Services Librarian Tricia Sweany.
"If you don't agree with people banning and challenging books, then this is the month to check out a banned book," she said.
Sweany said banned books are books that a person or people, typically in public libraries or school systems, question. Anyone is allowed to question a book.
Once questioned, she said, the book is then put through a process where a board will read, review and then make a decision as to whether the book will be banned in that particular facility.
Banning a book ensures it will no longer be available in that library, through interlibrary loans, on the shelves or be able to be ordered again.
If a book is questioned, but not banned, the book is known as a challenged book.
Sweany said an exception to the rule is an academic library such as the OCCC library.
"We will acknowledge (a challenged book) and put that book into consideration, but the likelihood of getting a book banned in an academic library is very rare," she said.
Cyber Security major Allison Begley disagrees with banning books.
"I don't think it's right to limit new knowledge and ideas."
Banned Book Week: "Celebrating the Freedom to Read" is Sept. 21 through 27. This is a week dedicated to bringing attention to the banning and challenging of books, said Ann Raia, circulation librarian.
A binder listing banned books, including titles that are banned within Oklahoma, is available at the display in the library, she said.
"Our (book) display is sort of a protest to banning and challenging books and is there for people to look one up, or get one off the shelf and read them," Raia said. "See for yourself."
OCCC student Nursing major Katie Morrison said it's important to know about banned books.
"… People have the right to read and to have that knowledge," Morrison said. "It's important to me more than just the knowledge. It is also the literary value of the work."
According to http://libguides.butler.edu, "Each book that is banned or censored is done so for the content within the pages."
Common reasons books have been banned include racial issues, encouragement of "damaging"
lifestyles, blasphemous dialog, sexual situations or dialog, violence or negativity, presence of witchcraft, religious affiliations, political bias, age inappropriate.
"Many books that have been banned or censored later were dropped from banned books lists and were no longer considered controversial," the website reads. "For this reason, banned books week occurs yearly to give readers a chance to revisit past or recently banned books to encourage a fresh look into the controversies the books faced."
Some examples of banned books are: "The Light in the Attic" by Shel Silverstein for "encouraging messiness and disobedience"; "Harry Potter" by J.K. Rowling for "promoting occultism and paganism"; "Captain Underpants" by Dav Pikey for being "insensitive, being unsuited to age group and encouraging children to disobey authority" ; and "The Wonderful Wizard of Oz" by L. Frank Baum for its "ungodly influence and for depicting women in strong leadership roles."
Opponents not only didn't want children reading "Oz," but adults as well, lest it undermine "longstanding gender roles."
All books and descriptions can be found on ala.org. and huffingtonpost.com.