You know all those preconceived notions that one day cancer will just be a word people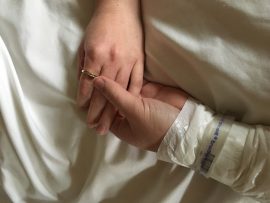 Well those people are wrong.
I hate to burst your dreaming bubble but cancer is a living thing. It grows, it is
responsive, and it adapts in order to thrive. Turn to the person next to you and ask them if their
family has had any run-ins with cancer. I dare you.
Cancer is unreal until it happens to you.
My family had just moved to Oklahoma. Not six months passed until I learned that my
16- year-old cousin Kate died from bone cancer. We used to live next door to each other.
My family went back to Texas for her funeral. I was 12 at the time.
It has been eight years since she died.
At the funeral, I remember thinking that Kate never appeared to be sick. I didn't
understand how she had died so quickly.
Now, I can only remember a single image of her. She was learning to drive, and I guess
she was on her way home from a doctor's appointment. I was in the yard playing when she
pulled up and stopped her car to talk to me.
I remember looking up through the car window, which was halfway rolled down. Kate
was wearing a camouflage hat with rhinestones on it, but I knew that the hair falling out from