Campus to host suicide prevention training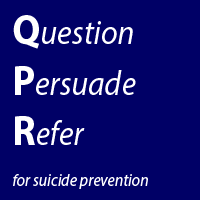 QPR is a form of suicide prevention training that stands for Question, Persuade, Refer and allows the friends, parents, teachers to help those struggling with thoughts of suicide, said Janey Wheeler, OCCC counselor.
The session will be held from 12:30 p.m. until 1:30 p.m. on Thursday, Feb. 19 in the John Massey Center.
Wheeler said the sessions are not a form of treatment or therapy, but instead to train gatekeepers.
"Basically, a gatekeeper is anyone in a position to recognize a crisis and warning signs that someone may be contemplating suicide.
"It could be anyone from a coach or a teacher, or a friend, a classmate, that is noticing some changes in someone or depression, kind of see emotional reactions that go with someone who's at that level of hopelessness," she said.
During the session, Wheeler will discuss the verbal cues people should watch for and how to question and react to those who might be considering ending their life. Persuading those in trouble to get help is important, she said. The suicidal person can then be referred out to someone who is equipped to help them.
"For instance, here at the college, anybody can refer to the counseling office here in Student Support Services, or to the Campus Police Department, because they're trained to work with people who might be considering suicide.
"But if it's someone outside of the college, get them to a crisis center or a hospital, somewhere where someone can help them, a pastor or a counselor. Basically, that's what this is all about," Wheeler said.
Everyone has been affected by suicide in some way, which makes it a sensitive subject for many people. Although it may be uncomfortable to ask people if they are considering ending their life, Wheeler said it could make a difference.
"They don't know what to say, and so a lot of times, people dance around that and they won't say anything because they don't know what to say. So, this helps people have some resources in their tool kit to be better prepared if they notice a fellow classmate or someone close around them, even a family member, that is making comments of kind of hopelessness or helplessness…
"Just go ahead and ask them 'is everything OK? Is there something I can do to help?' That helps validate that human being and then they feel better and can possibly get the help they need so they don't take their life," she said.
All students, faculty, and staff are encouraged to attend and can sign up at http://calendar.activedatax.com/occc/EventList.aspx?view=EventDetails&eventidn=11304&information_id=26132&type=&syndicate=syndicate.
For more information, contact Wheeler at 405-682-7131.
To contact Lauren Daniel, email onlineeditor@occc.edu