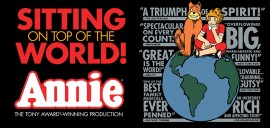 Oklahoma City Community College will host the award winning production of "Annie" November 4 – 5. Tickets can be purchased now.
Performance ticket prices will range from $45 – $75.
Based on the comic strip "Little Orphan Annie" by Harold Gray, Annie has been regarded as "lovable and charming" by the New York Times and as "one of the best family musicals ever penned" by the Chicago Tribune.
In an exclusive deal, the "Annie" cast and crew will tech, rehearse, and perform preview shows at OCCC before launching the third year of the nation-wide tour.
Annie is the story of a small orphan who thinks her parents left her by mistake. When a rich man lets the girl live in his mansion to better his image, she takes the search for her parents to new heights.
Cultural Programs Director Richard Charnay said he was excited to bring the hit musical to OCCC.
"I love 'Annie,' it's a terrific show. It's heartwarming, the tunes are toe-tapping, it's a great story," he said.
Professor of Theatre Arts Brent Noel, who has a background directing musical theatre, said "Annie" was not his favorite, even with critical praise, Annie is not a story that everyone can relate to.
"It's very inspirational, for some, to believe that all your problems can be solved if a rich, bald, white guy comes to your rescue," he said.
Dean of Arts Ruth Charnay said she participated in the former Edmond Community Theatre production of "Annie" about 30 years ago.
"I played a variety of roles. I was in the chorus and I played Perkins, when you go see it she's one of the first female cabinet members in the United States," she said. "It's all about fun let me tell you. I suppose you can get deep moving meanings from Annie as well, but it's really all about sitting back and going 'aww, aren't they cute'. It's a great family show."