Campus offices to host stress relief seminars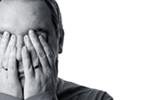 People who feel down during the colder, darker days of winter may be part of a sizable group who suffer from Seasonal Affective Disorder.
One of them is an elementary education major who asked to remain anonymous.
"Being away from my family and the gloomy weather during the holidays causes me to be depressed," he said.
Seasonal Affective Disorder is a depression that occurs each year, usually starting in fall or winter and ending in spring or early summer, according to www.webmd.com.
Learning Support Specialist Mary Turner describes SAD as sunshine deprivation. The less sunshine SAD sufferers receive, the more depressed they become. These are individuals who do not do well in the winter.
For SAD sufferers and others who may need a boost this time of year, Student Support Services, Trio and Student Life are sponsoring an activity called Student Stress Free from 10 a.m. to 2 p.m. Tuesday Dec. 6, and Wednesday, Dec. 7, in the College Union. Students will experience different way to relieve stress.
It will also include free chair massages, said Jenna Howard, mental health counselor in Student Support Services.
Another student who experiences the winter blues said she does not consider it to be depression. She rates it along the line of semester stress.
"When the sun is out, I feel good but when it is gloomy, I get sad," she said. "Also being single plays a part in being gloomy."
Turner said students who suffer from SAD should try to get as much sun as possible or invest in ultra violet lights. Ultra violet lights start as little as $30 to $40 a lamp. It is one way to replace sunlight, she said.
Turner said people who experience seasonal depression should try to stay busy and interact with people. It's a good time to do volunteer work, she said.
Fathi Hanoon, engineering major and native of Israel, said he feels lonely during the holidays because he does not get to spend it with all of his relatives.
"I know the feeling of having everyone as part of the holiday," said Hanoon. He misses that now.
Turner said many people who experience mental health problems are afraid to ask for help because of social stigma. Individuals think if they are depressed, they automatically think they're crazy and people will look at them funny.
But students who come to Student Support Services for help are promised confidentiality, Turner said.
"If I ever needed help for seasonal depression, I probably would get it," Hanoon said.
For more information or to talk to someone about mental health problems at Student Support Services, contact Mary Turner at 405-682-7544 or e-mail mturner@occc.edu.
To contact Crystal Rodriguez, email onlineeditor@occc.edu.