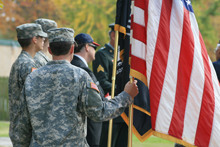 A ceremony honoring American veterans is scheduled for 11:30 a.m. Friday, Nov. 11, in College Union rooms 1 and 2.
This will be the fourth annual Veterans Day ceremony on campus, said Janis Armstrong, Veterans Services coordinator.
Armstrong said the goal is to recognize the sacrifices of those at OCCC and in the community who have served, or are currently serving, in the military.
"David Pruis from the Department of Veteran Affairs will be giving a patriotic speech," she said.
Pruis spent 20 years in the Army.
Another speaker, John Adams, served in many branches of the armed services.
A brief history of Veterans Day
•   Veterans Day, formerly known as Armistice Day, was originally set as a U.S. legal holiday to honor the end of World War I, which officially took place Nov. 11, 1918. In legislation that was passed in 1938, Nov. 11 was "dedicated to the cause of world peace and to be hereafter celebrated and known as 'Armistice Day.'" As such, this new legal holiday honored World War I veterans.
•   In 1954, after having been through World War II and the Korean War, the 83rd U.S. Congress — at the urging of the veterans service organizations — amended the Act of 1938 by striking out the word "Armistice" and inserting the word "Veterans." With the approval of this legislation on June 1, 1954, Nov. 11 became a day to honor American veterans of all wars.
•   In 1968, the Uniform Holiday Bill ensured three-day weekends for federal employees by celebrating four national holidays on Mondays: Washington's Birthday, Memorial Day, Veterans Day, and Columbus Day. Under this bill, Veterans Day was moved to the last Monday of October. Many states did not agree with this decision and continued to celebrate the holiday on its original date. The first Veterans Day under the new law was observed with much confusion on Oct. 25, 1971.
•   Finally on Sept. 20, 1975, President Gerald R. Ford signed a law which returned the annual observance of Veterans Day to its original date of Nov. 11, beginning in 1978. Since then, the Veterans Day holiday has been observed on Nov. 11.
Armstrong said he is retired Air Force, Army, Air Force Reserve, Army Reserve, Army National Guard, and Army National Guard Reserve.
He is currently serving in the Army Reserve.
"A Junior ROTC student from Grant High School will bring the colors," Armstrong said. Another group of students will do a drill performance.
An OCCC student who works at the Student Life department will sing "The Star Spangled Banner."
She will be joined by another veteran student, Kenneth Meador, who will lead the Pledge of Allegiance.
Refreshments such as cupcakes and finger foods will be offered.
All students, faculty, and staff are invited to the ceremony which is sponsored by Veteran Services and Student Life.
For more information, email Armstrong at jarmstrong@occc.edu.