Calling all performers for college-wide talent show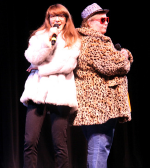 Do you have a voice like Elvis Presley? Are you pretty good with a set of drumsticks? Have you ever wanted to show a crowd how talented you are?
Here's your chance — if you are also an OCCC student, faculty member, or alumni.
The Future Alumni Network is looking for people who have flair to perform in the second annual OCCC's Got Talent, a scholarship fundraiser that showcases the many talents of the OCCC community, said Lisa Lasater, FAN club president
"We as students raise money from the talent show which in return goes towards scholarships at OCCC that any student can apply for," Lasater said in an e-mail.
"We were able to raise enough money for four $500 scholarships from last year's event, and our goal is to double that amount," she said
As well as stiff competition, last year's contest revealed some rare skills.
Last year's winner was Marilyn Or, who performed yo-yo tricks, said Randy Cassimus, Alumni Relations and Community Development associate director. "I wouldn't say it was the weirdest talent we saw, but it was the most unusual."
Cassimus is staff sponsor of the FAN club.
Student Kodey Prewitt said he really enjoyed participating in last year's contest. His one-man band performance earned him the Crowd Pleaser Award.
Cassimus said he hopes the contest also will have that award this year.
"It's only a $5 application fee and you have the opportunity to win some cash," Prewitt said. "Yeah, it's a great cause and the alumni do a lot for the college."
A panel of judges — most of whom have a background in the arts — will determine the winner for the 2015 talent show, Cassimus said.
There also is a second way to win a cash prize, he said.
An account will be created for those who are selected to be a part of the competition. The performer or group that raises the most donations for the OCCC Foundation Scholarship Fund through that account also will win an award.
FAN received about 50 talented applicants last year and gave away $750 in prize money, Cassimus said. He said the show included a trio of rappers, a troupe of dancers and even a ventriloquist.
This event is open to people of all talents, Cassimus said, but applicants will be narrowed down to approximately 20 contestants.
Those who have a talent to show off can fill out an application at www.occc.edu/talent.
Cassimus said applicants need to upload an audio or video audition clip. He said those who have a video  already posted on YouTube can attach that link.
"The audition clip does not have to be high-quality," he said. "It can be a video your friend recorded with an iPhone.
"However, if someone needs assistance in recording their talent, they can come to the OCCC Marketing/PR studio on March 3.
"We will be there all day to help people record their auditions."
All applications are due by March 6.
For more information, e-mail Cassimus at rcassimus@occc.edu or contact FAN at fan@occc.edu.
To contact Darla Kilhoffer, email onlineeditor@occc.edu