Business majors offered transfer tours to area universities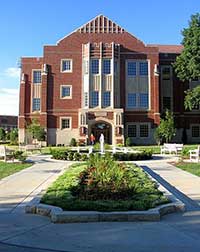 OU's Price School of Business
Business majors who are trying to decide which four-year school to attend can get help with that decision through some upcoming transfer tours offered by OCCC.
Tours are planned to the University of Oklahoma, the University of Central Oklahoma, University of Science and Arts of Oklahoma and Oklahoma City University, said Javier Puebla, Graduation, Employment and Transfer (GET) services coordinator.
Students planning to transfer should attend the tours to learn more about their in-state options, he said.
Javier said while at the different universities, students will visit the business schools at each campus, including the Price Business College at OU and the Meinders School of Business at OCU.
He said the students will eat lunch, take a campus tour, watch presentations about the programs and meet with transfer counselors for transcript evaluation.
The tour to UCO will be offered from 11:30 a.m. to 4:30 p.m. Friday, Feb. 13. The tour to OCU will be offered on Thursday, April 9, and the tour to OU will be offered sometime in March, Puebla said.
He said each university offers different resources for students. Going on a tour can help them discover which institution will best fit their future goals.
"The whole point there is for students to really know what their options are because it's a different program and each school — because of their campus and resources — offers a different environment for our students," Puebla said.
"At the same time, there's just trade off that they need to consider, so this is just another opportunity to better understand what they have to choose from."
For more information, visit http://www.occc.edu/get/events.htmlor call the GET office at 405-682-7521.
"PriceHall" by User:Nmajdan – Own work. Licensed under CC BY-SA 2.5 via Wikimedia Commons – http://commons.wikimedia.org/wiki/File:PriceHall.jpg#mediaviewer/File:PriceHall.jpg