Bruno Mars owns Moonshine Jungle tour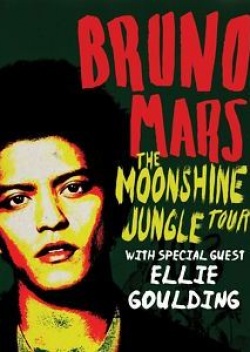 I feel sorry for those who missed the recent Moonshine Jungle tour.
It was a well put together show that kept the audience spellbound from start to finish.
Ellie Goulding — who is even better looking in person — was the opening act.
Goulding started her show with some new songs from her recent album "Halcyon Days." Afterwards, she broke out the bread and butter of her repertoire with "Anything Could Happen," "I Need Your Love," "Starry Eyed" and finally, "Lights."
After Goulding finished, Bruno Mars took the stage. Mars has an unbeatable stage presence. I almost feel like I should throw out my man card because there were a few times I was screaming.
He opened his show with "Moonshine," a song I had never heard.
Now Mars does not travel with the typical band of drums, guitar and bass. This mastermind brought with him a pianist, and horn section complete with a saxophonist, trumpeter and trombonist that gave his performance a more soulful attitude. I felt like I was transported back to the '60s or watching an episode of "Soul Train."
Mars pulled out all the stops mixing "Money, It's What I Want" with "Billionaire." He also sang a medley of "Candy Rain," "Our First Time" and "Pony."
He broke it down with his band and taught a little bit of RB 101 to the audience before singing "Marry You," "If I Knew" and "Runaway Baby."
He performed other amazing songs from his other albums as well, such as "When I Was Your Man," "Grenade" and "Just the Way You Are."
Then, Mars said goodbye.
However, something did not seem right to me. That's when I realized he forgot to play "Locked Out of Heaven."
About that time he rose up out of the stage, playing a fantastic drum solo that lead into "Locked Out Of Heaven" for his encore.
I highly enjoyed this concert as my first hip hop and R&B show.
Rating: A