Book deserves at least two reads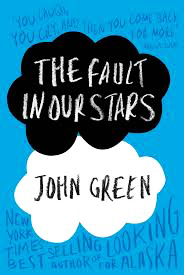 Most books are a one-time read and very rarely do we get caught up in a single book for too long.
However, I will unashamedly say I have read one book three times this year, and that book is "The Fault in Our Stars" by John Green.
First, let me warn you. This book will make you bawl like a baby. I know I have done so every time, but still, I always come back for more.
The main character Hazel Grace has thyroid cancer that has spread to her lungs, so she has to use an oxygen tank. She has a different outlook on her life as a cancer patient than most do. Her sarcasm, wit and bluntness made me laugh out loud during the entire book.
Hazel goes to a cancer support group and befriends a boy named Augustus Waters. Augustus is in remission from osteosarcoma, a bone cancer that caused him to have part of his leg amputated.
They are instantly attracted to each other and they begin to spend time together. A major thing that brings them together is Hazel's favorite book, "An Imperial Affliction." The book ends abruptly and both Hazel and Augustus end up contacting the author, Peter van Houten, trying to get answers.
After Hazel has a scare and ends up in the ICU for a few days, Augustus decides to use his "cancer wish" on both of them.
Augustus plans a trip to Amsterdam, Netherlands, which is where the author of the book lives, so they can meet in person. The author ends up being a jerk, but the rest of their trip is perfect. When they get back home, things take a turn when Augustus' health declines and they both learn what true love is.
This book is about more than cancer. It's about love, friends, death, leaving a mark in this world, sacrifice, choices and infinities. It will leave you an emotional wreck, but I promise you will fall in love with "their little infinity."
Rating: A+